Business in time of Corona Crisis
Slovakia entering lockdown as of November 25
Following the official declaration of the Government of the Slovak Republic on 24 November 2021, a two-week lockdown for all citizens (including curfew) and a 90-day national emergency have entered into force on November 25 at midnight and will last at least until December 9.
Exception from curfew include:

visiting a doctor;
travelling to get vaccinated or a Covid-19 test (between 5:00 AM and 8:00 PM);
the essential shopping and services - opening hours limited between 5:00 AM and 8:00 PM;
commuting to and from work (with home office recommended), employees will need confirmation from their employer;
travel to and from school and kindergarten (between 5:00 AM and 8:00 PM);
care for family members or other relatives;
walking pets within 500 meters from your home, caring for farm animals;
being in nature within the district you live;
attending funerals, wedding ceremonies and christenings (between 5:00 AM and 8:00 PM);
travel abroad.
The Government of the Slovak Republic will reassess the situation after 10 days and then decide whether they will prolong the measures or lift the restrictions, but only for fully vaccinated people and those who have recovered from Covid within the past 180 days.
At the same time, the new rules for entering a workplace, which counts on employees having either confirmation of vaccination, recovery from Covid, or a negative test result, should be applied as of 29 November 2021 until the end of the year.
Those not fully vaccinated against Covid or those who recovered from the disease more than 180 days ago will have to present a negative antigen self-test that cannot be older than seven days. Employers will have to purchase these tests, but the state promises to repay them in January 2022. The price of one antigen self-test should not exceed €5 with VAT.
Portions of the text originally published by the Slovak Spectator on 24 November, 2021. Please find
more updates and news in English language
and the
official declaration 695/2021 of the Slovak government
imposing the lockdown (in Slovak language).
Manual for Employers regarding testing of employees as of 29 November 2021:

https://www.mhsr.sk/manual
Current Slovak Regions Covid map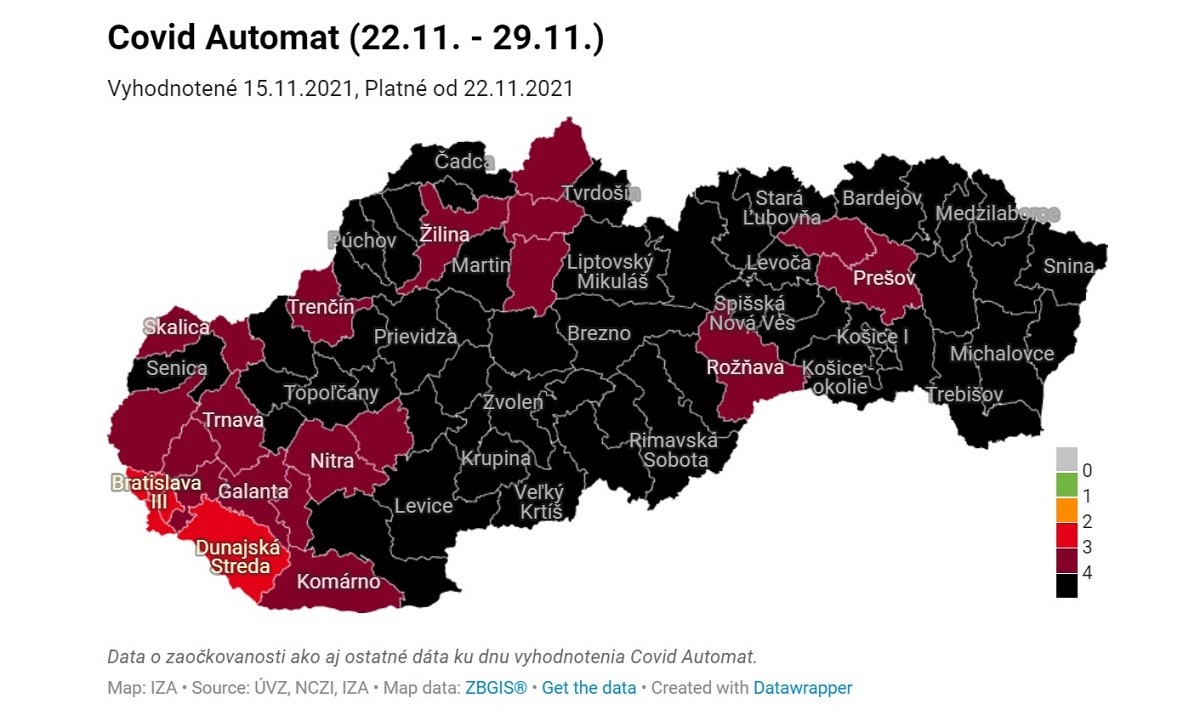 Red color – first grade of risk: okres Bratislava I.-V., okres Dunajská Streda.

Burgundy color – second grade of risk: okres Dolný Kubín, okres Galanta, okres Komárno, okres Malacky, okres Myjava, okres Námestovo, okres Nitra, okres Pezinok, okres Prešov, okres Rožňava, okres Ružomberok, okres Sabinov, okres Senec, okres Skalica, okres Šaľa, okres Trenčín, okres Trnava, okres Žilina, okres Zlaté Moravce,

Black color – third grade of risk: okres Bánovce nad Bebravou, okres Banská Bystrica, okres Banská Štiavnica, okres Bardejov, okres Brezno, okres Bytča, okres Čadca, okres Detva, okres Gelnica, okres Hlohovec, okres Humenné, okres Ilava, okres Kežmarok, okres Košice I.-IV., okres Košice-okolie, okres Krupina, okres Kysucké Nové Mesto, okres Levice, okres Levoča, okres Liptovský Mikuláš, okres Lučenec, okres Martin, okres Medzilaborce, okres Michalovce, okres Nové Mesto nad Váhom, okres Nové Zámky, okres Partizánske, okres Piešťany, okres Poltár, okres Poprad, okres Považská Bystrica, okres Prievidza, okres Púchov, okres Revúca, okres Rimavská Sobota, okres Senica, okres Snina, okres Sobrance, okres Spišská Nová Ves, okres Stará Ľubovňa, okres Stropkov, okres Svidník, okres Topoľčany, okres Trebišov, okres Turčianske Teplice, okres Tvrdošín, okres Veľký Krtíš, okres Vranov nad Topľou, okres Žarnovica, okres Žiar nad Hronom, okres Zvolen.



New COVID-19 guidelines valid from 22.11.2021:

Individuals who have recovered from COVID-19 in the last 180 days follow the same guidelines as fully vaccinated individuals.

In red and burgundy districts, only recovered and fully vaccinated individuals are able to enter the interior of restaurants, with max 4 people or only people from one household sitting at one table.

Events held in restaurants or similar establishments are not allowed in the OTP (recovered, vaccinated, or tested) regime in any district.

In black districts, hotel stays are allowed only for purposes of business or quarantine. Hotel stays in red and burgundy districts are allowed for those recovered from COVID-19 and fully vaccinated.

Companies and employers are allowed to check if their employees are vaccinated, have recovered in the last 180 days or have a proof of a negative test result but are not allowed to stop their employees from accessing the workplace if they cannot provide proof of the aforementioned options.

For more guidelines and information visit the page: https://korona.gov.sk/informacie-k-novym-pravidlam-platnym-od-22-11/ (in Slovak language only)






Covid automat app with current measures for each location:
Current Covid measures in Slovakia by The Public Health Authority (in eng):
https://www.uvzsr.sk/en/index.php?option=com_content&view=article&id=36&Itemid=13


Measures for travelling safely to and from Slovakia during COVID-19:
https://www.mic.iom.sk/en/news/637-covid-19-measures.html





AmCHAT Podcasts related to COVID-19
More podcasts can be found here.

The Ministry of Health has launched vaccinations in companies
The next step in getting the vaccine closer to people is vaccination in companies. You can request vaccinations of employees and their family members at this address ockovanie.covid19@health.gov.sk.
It is a practical solution for your employees, who can be vaccinated comfortably and without the need for further travel in a familiar environment. At the same time, a high level of vaccination of employees is the key for your company being able to operate smoothly and safely even after the next wave of the pandemic.
Companies are offered 3 forms of vaccination of their employees:

Vaccination in own medical facility, if companies have staff for it
Vaccination with an outpatient vaccination service (minimum 150 people)
Vaccination group - in the vaccination center (under 150 people)
In the pilot phase, 16 companies have already applied to vaccinate their employees. There are a total of 33 plants or branches:

8 races chose vaccination in their own medical facility.
5 races prefer vaccination by the outing team.
19 plants want to take advantage of the possibility of vaccination in the existing vaccination center.
1 plant / branch has not yet determined the method - they are finding out from their employees.
More info: https://www.health.gov.sk/
Official vaccination campaign: https://slovenskoproticovidu.sk/sk/
Vaccination campaign materials for businesses: https://zaockujemsa.sk/pre-firmy/ (citizens' initiative)




Government support for companies: One-stop-shop
The Ministry of Economy of the Slovak Republic has recently launched a "One-stop-shop" for all companies and entrepreneurs seeking public support, funding or consultancy. The newly created webpage accumulates all relevant public information regarding public support schemes and mechanisms and disseminates data via filtering engines based on current situation, target groups, types of support or deliverables.

For more information (in SK language), please visit VESMIRPODPORY.SK.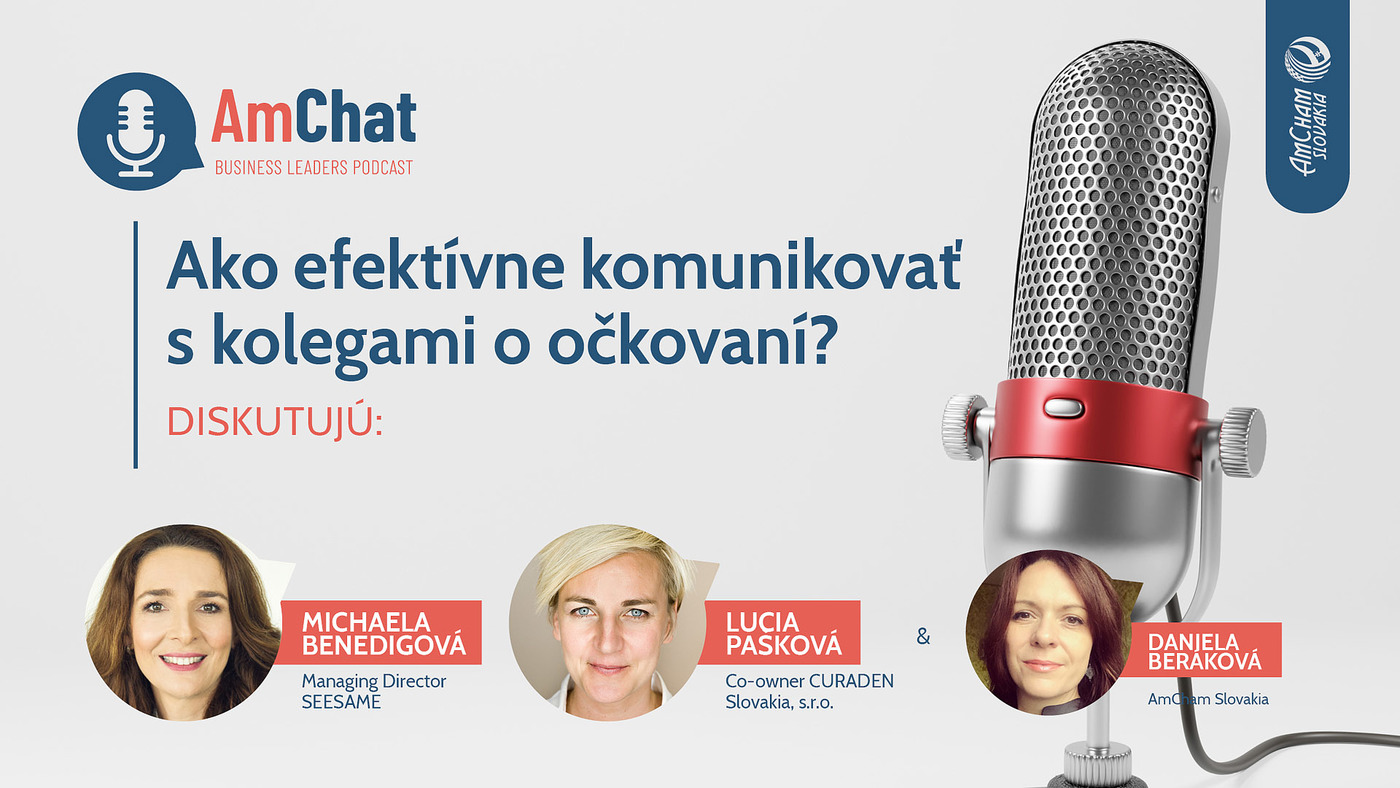 Listen to our AmCHAT podcast on how to effectively communicate about vaccination in your company among employees.

Why was the civic initiative #Zaockujemsa #YesToVaccines created and what materials did it prepare for companies?

How did Curaden employees respond to vaccination communication?

What is the position of company leaders on vaccination?

We talked with guests Michaela Benedigová, Executive Director of Seesame and Lucia Pašková, co-owner of Curaden Slovakia, about internal communication in companies.

Important information for business:
How to be prepared for new challenges?
| | |
| --- | --- |
| WEBINAR: We.Work.New | |
| WEBINAR: How can the private and public sectors join forces and combat violence against women? | |
| WEBINAR: Webinar: COVID-19 from the perspective of an epidemiologist and an infectologist | |
| WEBINAR: How to take care of the mental health of your employees during a pandemic? | |

Check more:
AmCham professional Digital webinars: https://www.youtube.com/playlist?list=PL2qFaPvJg9fzk95pJSgy6Yz5ZG7Q0DGNw
AmCham webinars in time of covid-19 crisis:
https://www.youtube.com/playlist?list=PL2qFaPvJg9fx9XBFv_-GFH3HcYYHHXh_o