Business in time of Corona Crisis
The Ministry of Health has launched vaccinations in companies
The next step in getting the vaccine closer to people is vaccination in companies. You can request vaccinations of employees and their family members at this address ockovanie.covid19@health.gov.sk.
It is a practical solution for your employees, who can be vaccinated comfortably and without the need for further travel in a familiar environment. At the same time, a high level of vaccination of employees is the key for your company being able to operate smoothly and safely even after the next wave of the pandemic.
Companies are offered 3 forms of vaccination of their employees:

Vaccination in own medical facility, if companies have staff for it
Vaccination with an outpatient vaccination service (minimum 150 people)
Vaccination group - in the vaccination center (under 150 people)
In the pilot phase, 16 companies have already applied to vaccinate their employees. There are a total of 33 plants or branches:

8 races chose vaccination in their own medical facility.
5 races prefer vaccination by the outing team.
19 plants want to take advantage of the possibility of vaccination in the existing vaccination center.
1 plant / branch has not yet determined the method - they are finding out from their employees.
More info: https://www.health.gov.sk/
Official vaccination campaign: https://slovenskoproticovidu.sk/sk/
Vaccination campaign materials for businesses: https://zaockujemsa.sk/pre-firmy/ (citizens' initiative)




Government support for companies: One-stop-shop
The Ministry of Economy of the Slovak Republic has recently launched a "One-stop-shop" for all companies and entrepreneurs seeking public support, funding or consultancy. The newly created webpage accumulates all relevant public information regarding public support schemes and mechanisms and disseminates data via filtering engines based on current situation, target groups, types of support or deliverables.

For more information (in SK language), please visit VESMIRPODPORY.SK.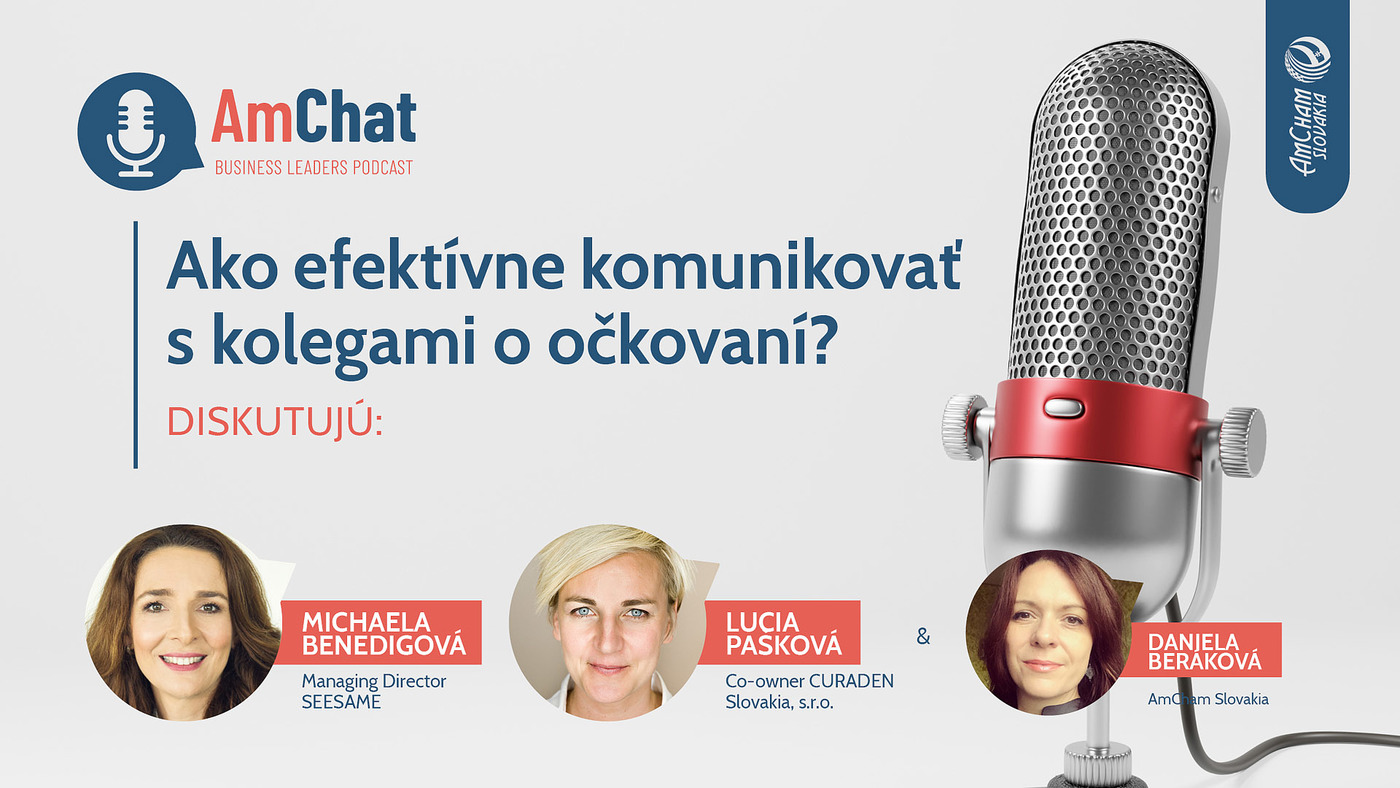 Listen to our AmCHAT podcast on how to effectively communicate about vaccination in your company among employees.

Why was the civic initiative #Zaockujemsa #YesToVaccines created and what materials did it prepare for companies?

How did Curaden employees respond to vaccination communication?

What is the position of company leaders on vaccination?

We talked with guests Michaela Benedigová, Executive Director of Seesame and Lucia Pašková, co-owner of Curaden Slovakia, about internal communication in companies.

Important information for business:
How to be prepared for new challenges?
| | |
| --- | --- |
| WEBINAR: We.Work.New | |
| WEBINAR: How can the private and public sectors join forces and combat violence against women? | |
| WEBINAR: Webinar: COVID-19 from the perspective of an epidemiologist and an infectologist | |
| WEBINAR: How to take care of the mental health of your employees during a pandemic? | |

Check more:
AmCham professional Digital webinars: https://www.youtube.com/playlist?list=PL2qFaPvJg9fzk95pJSgy6Yz5ZG7Q0DGNw
AmCham webinars in time of covid-19 crisis:
https://www.youtube.com/playlist?list=PL2qFaPvJg9fx9XBFv_-GFH3HcYYHHXh_o