Recovery and Resilience Facility
AmCham Slovakia believes that the Recovery and Resilience Facility, which was approved by the EU Commission in June, will bring many good reforms that would shape Slovakia as a place worth living, working, and doing business in.

For you, our members, we provide an overview of relevant contacts and information in order to make your company able to participate in the public procurement opportunities in more than 15 transformative areas.

AmCham Slovakia is in contact with the RRF team and also wants to participate to help the reforms in areas such as Education, Health, Rule of Law, Digitalization, or Sustainability to be successful.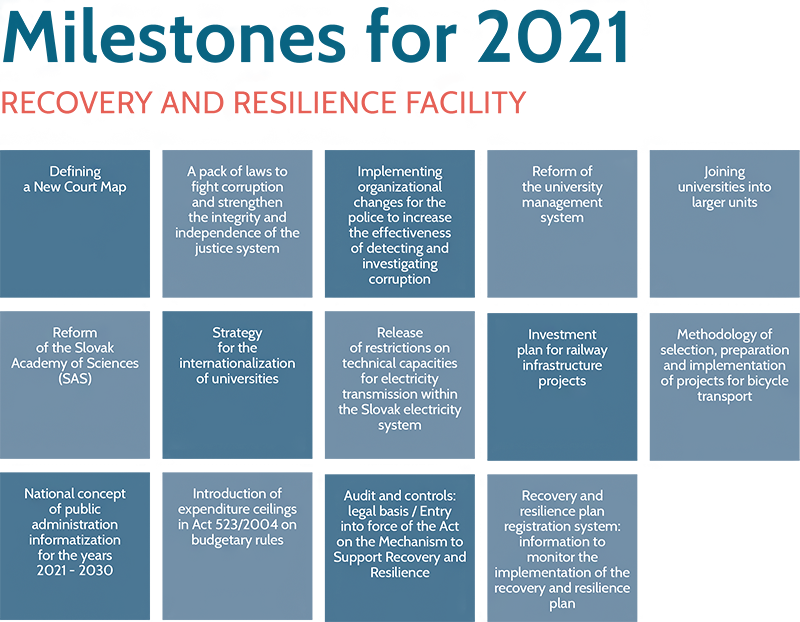 What is the Recovery and Resilience Facility?
The Recovery and Resilience Facility (the Facility) makes €672.5 billion (in 2018 prices) in loans and grants available to support reforms and investments undertaken by Member States. The aim is to mitigate the economic and social impact of the coronavirus pandemic and make European economies and societies more sustainable, resilient and better prepared for the challenges and opportunities of the green and digital transitions.



Why is AmCham Slovakia interested in RRF?
AmCham Slovakia believes that this mechanism might bring many good reforms that AmCham was concerned with in the past.

AmCham wants to help and be participative as our policy committees held the great expertise in many areas from the plan.



How can AmCham member companies benefit from the RRF?
As RRF will also be about Public Procurement we want to make sure that AmCham Slovakia member companies have all the information needed to take part in the business cases.

Every single RRF component falls under a specific ministry. Every single ministry is calling for suppliers on their websites to implement the component correctly.



Are you interested in a specific component and would you like to learn more?
In case you would like to get in touch with a specific department at the relevant Ministry, please check the contact details that we put together for you, our members.



Do you want to read the complete Recovery and Resilience Facility? Please click here:
https://www.planobnovy.sk/kompletny-plan-obnovy/


More information can be found here:
https://www.planobnovy.sk/otazky-a-odpovede/