Patron
Member

4000 € per year

Corporate
Member

2300 € per year

General
Member

850 € per year

Non-profit
Member

500 € per year

Participate in all Chamber events and activities
Receive all Chamber services
Written acknowledgement in Chamber Publications
Have logo displayed at each event
Voting representatives
Four (4)
Three (3)
Two (2)
One (1)
Invitations to the AmCham Executive Business Club events
One (1)
Prices will be calculated proportionally within a year.
Your Contact person
Laura Začková
Office Coordinator and Personal Assistant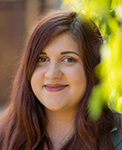 Testimonials
We kindly ask you for taking part in our Membership Survey. This is an unique opportunity for us to understand your needs and improve our services we provide to you, our members.
—

AmCham Membership Survey 2020

The survey results will help us to work in the "new normal" and provide guidance for us to serve YOU - our valuable members. Your opinion matters to us and we will do our best to implement your suggestions.


You can fill in the survey HERE:

Thank you for your continuous support! Be assured that all answers provided will be kept in the strict confidentiality. The survey should take only 3 minutes to complete.

Thank you!

AmCham Team