Patron
Member

4000 € per year

Corporate
Member

2300 € per year

General
Member

850 € per year

Non-profit
Member

500 € per year

Participate in all Chamber events and activities
Receive all Chamber services
Written acknowledgement in Chamber Publications
Have logo displayed at each event
Voting representatives
Four (4)
Three (3)
Two (2)
One (1)
Invitations to the AmCham Executive Business Club events
One (1)
Prices will be calculated proportionally within a year.
Testimonials
Results of brief AmCham member Covid19 survey.
—

CEO Survey COVID-19: Majority of companies will not survive without significant government assistance

AmCham Slovakia has conducted a survey among CEOs of our member companies between March 19-26 in order to find out about the impact of the current Covid19 pandemic. According to the results from 58 CEOs, the most important measures will be of fiscal and employment-related nature. Most frequent recommendations included:

Lower (or at least deferred) health and social contribution payments
Postponement of VAT and Corporate Income Tax payments
More flexible Labor Code
Lower administrative burden and functioning electronic communications with public institutions

We are glad to see majority of our members showing responsible approach as they care about health and safety of their employees and partners. We have received from them many useful suggestions that we plan to communicate towards relevant public health authorities.

The good news is that majority of our members have reacted responsibly and 75% of them have prepared crisis scenarios before or right after the outbreak in order to ensure stability of their business operations (and employees as well) at least at basic levels. We appreciate their responsible approach.

However, not even responsible approach can prevent dramatic downfall in economic results. 40% of survey respondents expect downfall in their turnover of 30 or more percent which will have significant impact on their business operations and is likely to cause bankruptcy in many cases.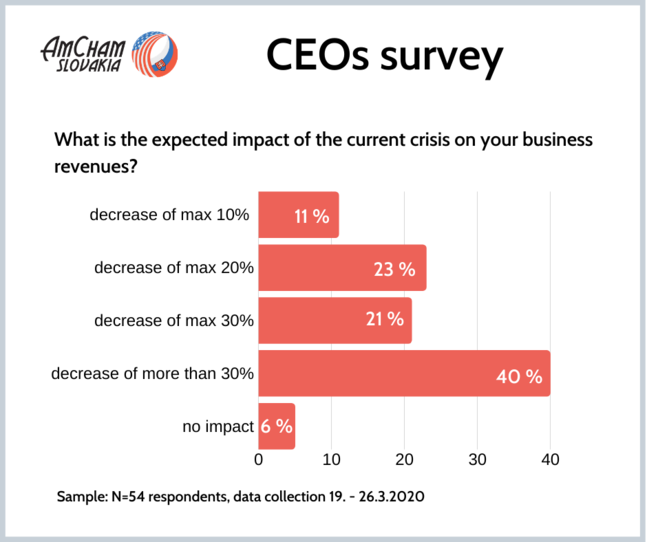 According to the survey, almost 40% of companies will not be able to survive longer than 3 months and 60% of respondents expect to run out of business within the next 6 months. Should the current Covid19 pandemic and its economic effects continue, and the government will fail to adopt necessary measures, it will mean many of the important investors will be forced to cease their operations in Slovakia.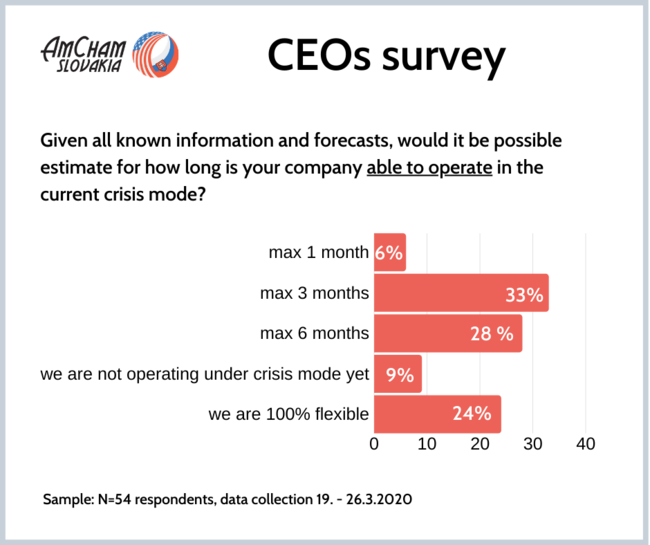 Such situation will likely have extremely negative effects on employment levels thus causing a double-negative effect on public finances. First, it will cause significant shortage on the income side of the state and municipal budgets due to losses in both corporate and personal income taxes. Secondary negative effect consists of lower purchase power of households which will have negative effects on real state VAT income.

Should a significant amount of companies run out of business, hundreds of thousands of employees will become jobless and expenditures on social benefits are likely to skyrocket which will have negative effects on Social Insurance company and state budgets.