Letter to Members by Ronald Blasko
2023 is the year of the Rabbit in the Chinese calendar. The rabbit is the symbol of longevity, peace, and prosperity in Chinese Culture, thus 2023 is predicted to be a year of hope, or optimism if you like. The term optimism derives from the Latin optimum, meaning "best" and American novelist James Branch Cabell says that: "The optimist proclaims that we live in the best of all possible worlds, and the pessimist fears this is true."

I believe that it won't be considered presumptuous if we presume that none of our AmCham community members considers our current world as "the best of all possible ones". Hence, we all can be considered optimists even if some of us do not want to admit it and sometimes struggle to remain positive.

Henceforth it seems highly appropriate to remind ourselves of some reasons for optimism in 2023.

First, if 2022 was yet another year of crisis (so-called "tripledemic", i.e. high inflation, climate crisis, and brutal, meaningless war) 2023 could be a year of faster progress toward tackling some of the planet's most serious problems. Climate, energy, health, food, and humanitarian crises caused also by Russia's attack against Ukraine and almost unprecedented economic uncertainty—have prompted business leaders, and responsible politicians (fortunately, there are still some) to take much-needed actions and strengthen their commitments to the long-term sustainability of economies and societies.

Second, our world is fragmented, Western politics highly bifurcated and trust in democracy in our region and globally is shaken. Nevertheless, the West remains united in its support for Ukraine, in its opposition against Russia, in its energy transformation and climate change mitigation, and finally also in understanding that only strong democratic leadership alert to risks and subject to checks and balances guaranteeing self-correction can successfully tackle daunting challenges facing mankind.

Third, despite many doomsday forecasts for the EU economy and electricity blackouts our economies have proven relatively resilient so far. Naturally, many of us would wish for colder winter but even if it eventually comes with each month the EU is slowly but surely diversifying its vital energy supplies and we may even avoid a recession this year. Furthermore, our EU politicians have finally begun taking more seriously also other vulnerabilities (such as external dependence on critical technologies) coming from tectonic shifts taking place in the geopolitical landscape and are devising support schemes in the EU national interests.

Fourth, although we often tend to forget it, we are all privileged to live in functioning, modern, and prosperous societies. Moreover, for sure each of us has or keeps looking for her or his reasons for optimism because we realize that only positive thinking can help us set appropriate goals and find meaning in our lives.

Finally, new leaders bring new energy and ideas which are vital for continuous improvement and growth of all organizations, including AmCham. Therefore, I am delighted to inform you that as of February 1, 2023, my role will be taken over by Martina Slabejová. Martina has all it takes to successfully lead AmCham Slovakia for the benefit of you, our precious members as well as the Slovak economy and society.

To be sure, there are plenty of issues to worry about, but there are much more than just the five reasons mentioned above for optimism.

Please, count on AmCham Slovakia to continue delivering extra reasons for optimism throughout the year 2023 as we hopefully did in 2022.

Thank you for staying with us. Together we remain stronger.

I wish you all the best in 2023!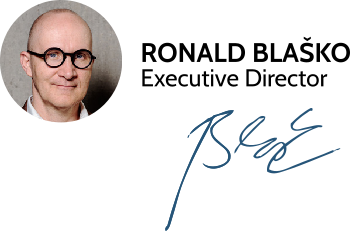 Key Achievements