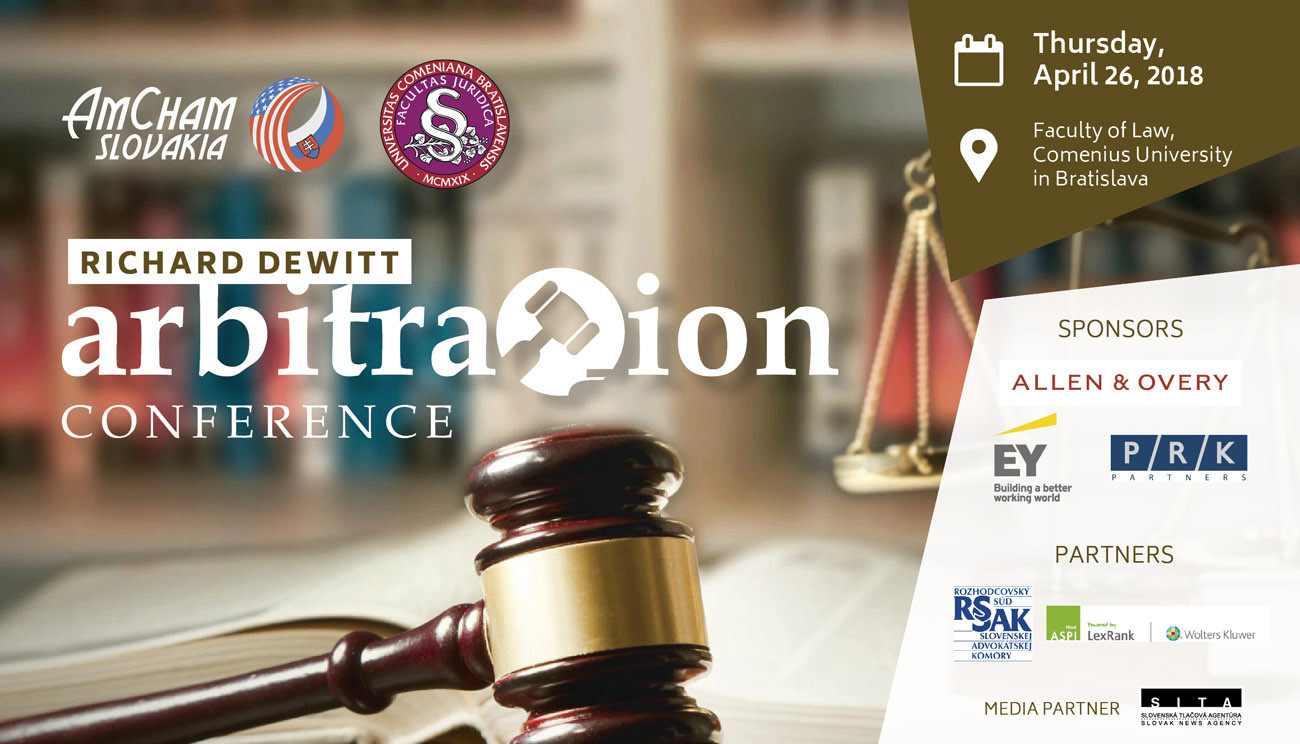 Arbitration Conference
Thursday, Apr 26, 2018 From 08:30 to 13:00
Univerzita Komenského v Bratislave (2nd floor of the historical building on Šafárikovo square), Vajanského nábrežie, Bratislava
in cooperation with Comenius University in Bratislava, Faculty of Law.
PRELIMINARY PROGRAM OF THE CONFERENCE

8.30 – 9.00 REGISTRATION


9.00 – 9.10 OPENING OF THE CONFERENCE

Mária PATAKYOVÁ, Faculty of Law, Comenius University

Luba DeWITT, wife of late Richard DeWITT after whom the conference is named
Jake SLEGERS, Executive Director, AmCham
9.10 – 10.30 1st PANEL: CORPORATE ARBITRATION
Can an Arbitration Clause have in the Memorandum of Association a Corporate Character?

Kateřina EICHLEROVÁ, Charles University, Prague, Czech Republic

Problems of Corporate Disputes in Slovakia and Possibilities of their Solution
Miriam GALANDOVÁ, partner, PRK Partners, Bratislava

Arbitration Clause in the Memorandum of Association of a Limited Liability Company – which Parties are Bound by it?
Michal HRUŠOVSKÝ, associate, Ernst & Young Law, Bratislava / Comenius University in Bratislava, Faculty of Law

10.30 – 11.00 BREAK & NETWORKING

11.00 – 13.00 2nd PANEL: COSTS OF THE ARBITRATION PROCEEDING
Costs of Expert Evidence
Vladimír IVANČO, associate, White & Case, Bratislava

Costs in Investment Arbitration
Matej KOŠALKO, solicitor in England

Costs of Legal Representation in Commercial Arbitration in Slovakia

Pavel LACKO, associate, Motúzová & Lacko / Comenius University in Bratislava, Faculty of Law

Analysis of Reimbursement of Legal Costs in International Arbitration
Andrej LEONTIEV, partner & Marek ANDERLE, junior associate, TaylorWessing e/n/w/c, Bratislava

Is the Winning Party in an Arbitration Proceeding Always Entitled to the Reimbursement of Costs?
Martin MAGÁL, partner, Allen & Overy, Bratislava

13.00 FINAL REMARKS


Participation at the conference is free of charge for members and invited guests.
Language of the conference: Slovak

Please register online by April 23, 2018.

AmCham
Member
Policy
Connection