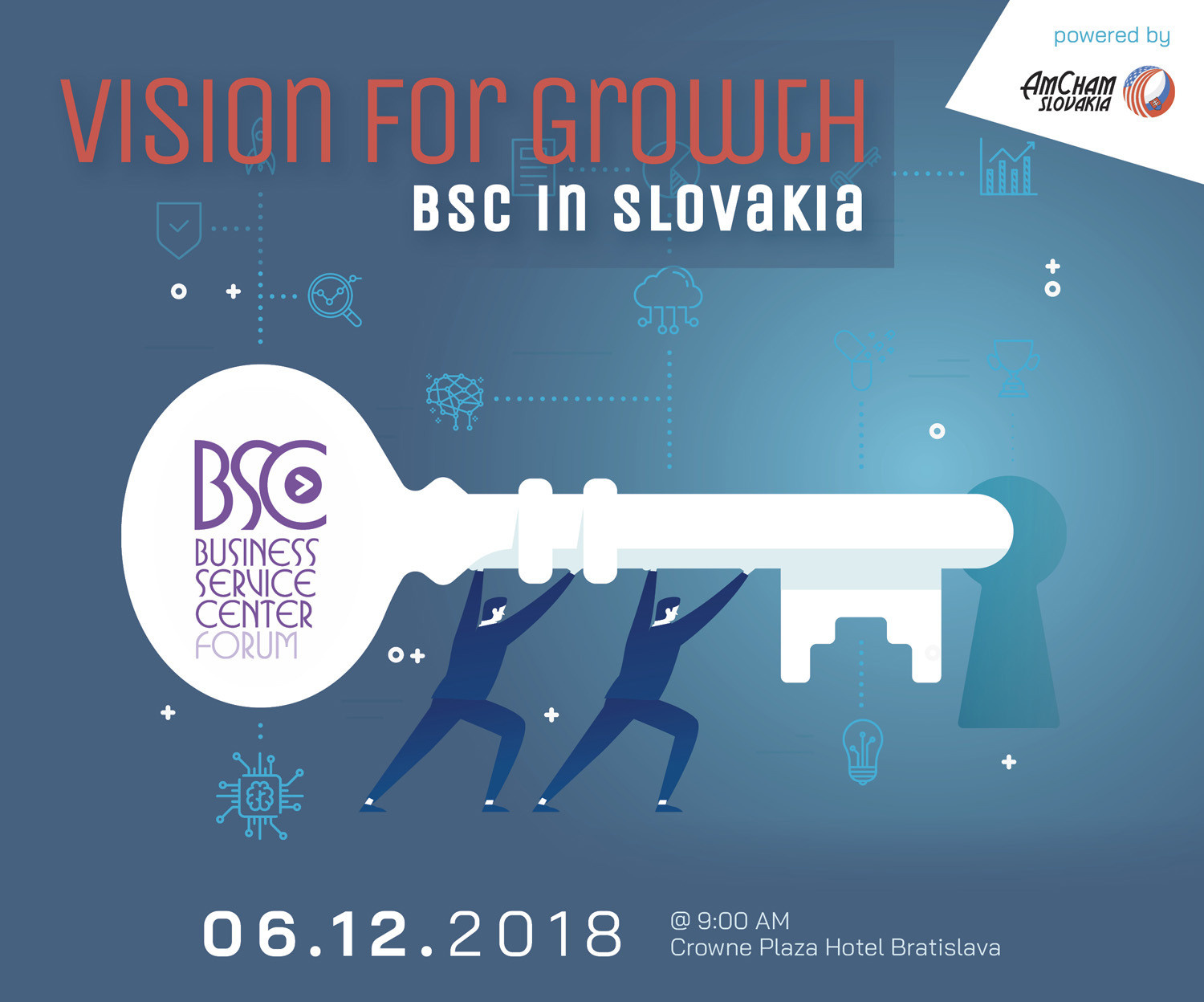 Business Service Centers Conference
Thursday, Dec 06, 2018 From 09:00 to 16:00
Crowne Plaza, Hodžovo námestie 2
on "BSC in Slovakia: Vision for Growth". Sponsored by BSCF member companies.
The goal of the Business Service Center Forum (BSCF) and its fourth annual conference is to craft a vision where we see the sector of shared services in Slovakia developing in the next 5-7 years. Business Service Center Forum represents the business service industry with over 35,000 employees from a wide range of services and locations across the country. We will be very excited to welcome key BSC stakeholders envisioning the future scope of business services and the business environment in Slovakia influenced predominantly by RPA (robotic process automation) and dynamic changes on the labor market.

Tentative agenda (as of November 21, 2018):
08:30 - 09:00 REGISTRATION
09:00 – 09:10 OPENING REMARKS

Ronald Blaško, Executive Director, AmCham Slovakia

09:10 – 09:25 OVERVIEW OF THE BSC SECTOR IN SLOVAKIA IN 2018

Gabriel Galgóci, BSCF chair, AT&T Slovakia Country General Manager (conference moderator)

09:25 – 09:40 GOVERNMENT TALK – BUSINESS ENVIRONMENT
Business services is a distinct competitive advantage to Slovakia employing almost 40 000 talents with higher added value than many other economic areas. The sector needs more care and attention from the government - how do we further shape an ecosystem that supports the business growth for BSCs?

Rastislav Chovanec, State Secretary of the Ministry of Economy of the Slovak Republic

09:40 – 11:00 PANEL 1: FUTURE SCOPE OF BUSINESS SERVICES – FROM COST SAVING TO GLOBAL QUALITY SERVICE VALUE
As the transformation trends drive the scope of changes further up the value chain, promotion of complex tasks into BSC operations becomes routine. What is critical for BSCs in Slovakia to successfully complete the change from being the "service provider" to being the "business partner"?

Maroš Čuchta, COO, Advanced Technology Center, Accenture

Paul Burt, ISC Location Leader and Managing Director, IBM

Kristína Gaál Drobcová, Vice President Global Business Services, Johnson Controls

Martin Bednár, Vice President, Dell

11:00 – 11:30 COFFEE BREAK & NETWORKING

11:30 – 13:00 PANEL 2: BSC 4.0 - HUMANLY DIGITAL TIMES
As the transactional work will no longer be delivered by people, digitalization will leave humans to focus on understanding overall processes and functions and on providing solutions to company-wide issues. What will be included in the skill-set beyond 2020 in BSC industry and how the demand for these skills will influence the labor market and education system in Slovakia?

Christian Schulz, Head of SSC, Henkel

Peter Dvornák, SSC Manager, Faurecia

Wolfgang Fischer, CEO, Zurich Insurance Company

13:00 – 14:00 LUNCH & NETWORKING

14:00 – 17:00 HIGH SCHOOLS WORKSHOPS (upon separate invitations for high schools only)


2pm – 2.20pm: BSC sector on the labor market (Gabriel Galgóci, BSCF chair)
2.20pm – 2.40pm: Labor market trends in Slovakia (Ivana Molnárová, CEO, Profesia.sk)
2.40pm – 3pm: Labor market forecast until 2023 (Lucia Dítětová, manager, Trexima)
3pm – 5pm: Parallel skilled-based workshops
Teachers – Topic: How to engage the audience? (Tatiana Hargašová, KPMG)

Career counselors – Topic: Coaching (Silvia Gallová, IBM)

Directors – Topic: Situational Leadership (Zoltán Labai, AT&T)

17:00 REFRESHMENTS & NETWORKING

AmCham
Member
Policy
Connection