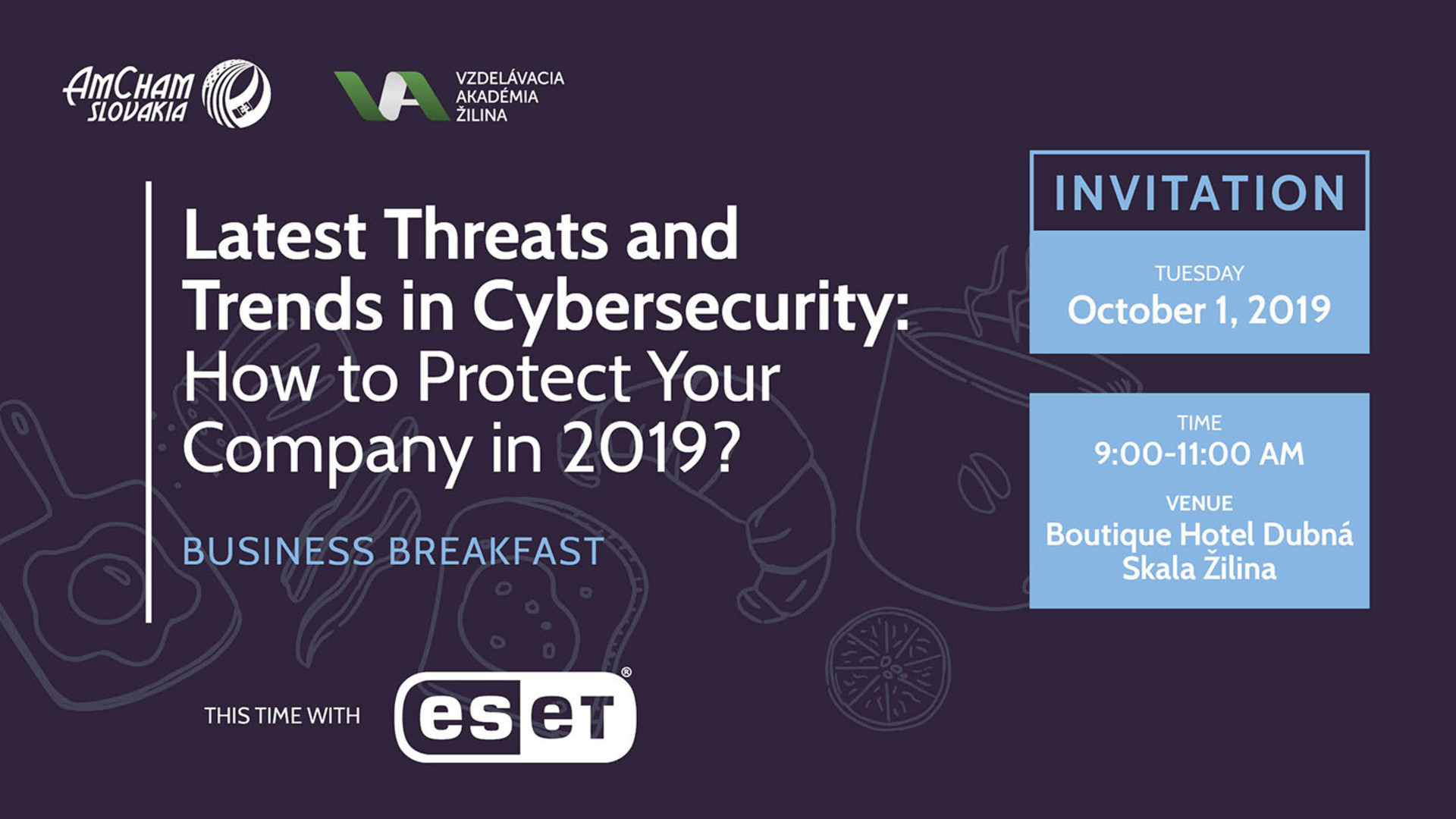 Business Breakfast
Tuesday, Oct 01, 2019 From 09:00 to 11:00
Boutique Hotel Dubná Skala Žilina, J. M. Hurbana 345/8
in Žilina on "Latest threats and trends in cybersecurity: how to protect your company in 2019?", sponsored by ESET.
SPONSORED BY:
Sponsored by

There are several ways to protect your data, systems, and customers' information against security threats. But daily new types of threats are emerging that can compromise your business. Let this business breakfast be a quick guide to some trends in cybersecurity where ESET professionals will share their ideas on how to protect your company against them.
Program:
08:30 - 09:00 Registration & breakfast
09:00 - 10:00 Julius Selecky, ESET Senior Technical Pre-Sales Representative Sales and Business Development: Advanced IT threats.
For several years now, ESET experts from around the world have been contributing to our annual Trends report, which offers a brief review of the milestones reached in the world of cybersecurity and our predictions about a possible attack scenarios and measures to counteract them in 2019.
10:00 – 11:00 Ondrej Krajc, ESET Technical Pre-Sales Representative on how technology and technological solutions can help your business and your customers.
Over the last decade, we have seen an evolution of cyberattacks moving from cybercrime for monetary gain, to strategic cyber warfare, nation-state (government) hacking intended for political disruption and attempts to cause catastrophic damage at scale. Critical infrastructure, which consists of industries and systems that underpin our European society (and serve as the backbone of the economy, security, and health) are some of the most vulnerable and fragile systems that, if penetrated, can cause irreparable damage. Join us and let ESET cybersecurity experts tell you all about what kind of technology and IT solutions can help protect critical infrastructure as well as your companies and businesses.
About ESET:
ESET represents 30 years of continuous technology innovation.

It is the biggest (Nr.1) Business Endpoint Security Software vendor from the EU.

It is a privately-owned company based in the EU, with around 1600 employees and present in more than 200 countries.

ESET protects more than 600 Mio users worldwide & 110 Mio users directly

ESET has above 400,000 business customers and cooperates with companies that are leaders in their segment.
Register online by September 30, 2019 by 23:59.

Please note that your email address can be shared with the partners of the event and used for AmCham internal purposes.
Free for members and invited guests, non-members: 80,- Eur (incl. VAT)
Documents to download
November 14, 2019
Connection magazine report
Format: .pdf, size: 1.04MB
download
Upcoming Events
AmCham
Member
Policy
Connection