 AmCham Blood Donation
Tuesday, Apr 05, 2022 From 08:00 to 12:00
Crowne Plaza Bratislava, an IHG Hotel, Hodžovo námestie 2, Bratislava
Join us for a good cause!
IMPORTANT:
If you wish to donate blood but there are no slots available, please, feel free to come to our event and wait for a free spot.


Each year, many slots are freed during the event and we fill these on an ad hoc basis.
The company which donates the largest amount of blood wins and receives special promotion from AmCham Slovakia. Invite your colleagues, friends, families to help you out!
RECOMMENDED BREAKFAST:
non-fat pastry, crackers, bread, fruit, vegetables, honey, jam.

FOOD RESTRICTIONS (14 HOURS BEFORE DONATION):
no milk products (butter, sour cream, cream, cheese), fat or smoked meats (bacon, sausages, meat soups), fried food, chocolate, nuts, etc.

For more information on food and other restrictions please see the attached files in the Documents section below.
Would you be interested in becoming a partner? Please see the sponsorship opportunities below.
Your Contact person
Lea Kőrösová
Events Coordinator - Virtual & Live projects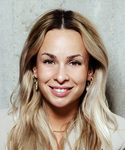 AmCham
Member
Policy
Connection