 Welcome Back to Work Gathering Košice
Wednesday, Sep 21, 2022 From 18:00 to 21:00
Dolná brána, Hlavná 10, Košice
special social gathering in Košice
The summer months were highlighted by the news of a major investment coming to Košice, which is undoubtedly a big win for Eastern Slovakia. With the upcoming municipal elections, this is a strategic milestone for this region. Therefore, it is important to define the conditions and prospects for further development of the local ecosystem, which will be tied to these significant investments.

Not only the challenge of completing transport infrastructure or housing opportunities, but also the challenge of finding talent and human capital will be significant in Eastern Slovakia and Košice in particular. In this context, the state, local government, academia and the business sector will play an important role, as they face the challenging task of stemming the brain drain and attracting and producing new, qualified talent.
AmCham Slovakia, therefore, appeals to increase the attractiveness of the city and the region as a whole, with the intention of making Košice visible as a place ideal not only for investment, but also for living, since it is a progressive place of constant growth.
With this event, we would like to contribute to creating opportunities for connecting all relevant stakeholders who care about the development of the ecosystem and infrastructure supporting innovation in Eastern Slovakia.
The event will be taking place at unique historical premises of Dolná Brána.
PROGRAM:
17:45 Registration
18:00 Networking, delicious food & drinks
18:30 Welcome & keynote speeches by:
- Katarína Miňová, Policy Manager, AmCham
- Gabriel Galgóci, President, AmCham
- Ronald Blaško, Executive Director, AmCham
- Peter Gunda, CEO, BDO

- Thomas Dworschak, CEO, Letisko Košice
- Brandon Haber, Flight Software Lead, NASA for Dragonfly to Titan
- mesto Košice, TBA
19:00 Networking, delicious food, wine and Game of Thrones thematic whiskey tasting
19:30 Sony & Lucy performance
20:30 Business Card raffle sponsored by Letisko Košice
Non-members, please send an e-mail to Lea.Korosova@amcham.sk. Please, make sure to include your full name, company and your position.

Your Contact person
Katarína Miňová
Policy Manager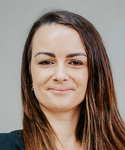 AmCham
Member
Policy
Connection