ECOFIN 2022 - Towards more efficient financial ecosystem
Monday, Jun 27, 2022 From 09:00
Bratislava - Pontoon
organized by FinancMajstri, supported by AmCham Slovakia
FinancMajstri NGO invites you to the first of the two conferences ECOFIN 2022 - support of Slovak companies and local governments in Access to Finance, Capital Mobilisation and Regional Development on June 27 in Bratislava.

The aim of the 1st conference is to accelerate the capacity building of Slovak companies and local governments in the area of repayable financial instruments and the 2nd conference in November will include the Matchmaking - the largest LIST of companies and professional providers of capital.
Media approach of the 1st conference (SVK):

We have expanded the topic of cross-border business cooperation with a real assistance to Ukraine in the form of support for Slovak / EU companies and local governments in the implementation of joint projects addressed through the use of financial and guarantee instruments of the European financial and capital market industry.
We would appreciate, if you share this event within your member's base and companies, which could benefit from the conference. The conference is suitable for obtaining information on financing / projects size EUR 1-50mln. Conference is not suitable for start-ups.

First day - June 27 – Support for Slovak companies and municipalities in Access to Finance, Capital Mobilisation and Regional Development remains with the original program. Expansion to foreign markets is moved to the second day.
Second day - June 28 – Devoted mainly to DOING BUSINESS WITH UKRAINIANS as well as Export Support of Slovak companies to other foreign markets using the financial instruments of the commercial and multilateral development banks (trading, goods, services, investments). Representatives of the various sectors of the Ukrainian economy, including Agriculture, Construction, IT/Technology, and Energy, will be featured speakers. The Ukrainian participants will focus on the reconstruction of industry and infrastructure development of the towns and municipalities most affected by the war. The conference will also feature major industry players and representatives of the financial sectors of neighbouring countries.
Ukrainian representatives of the largest agricultural holdings, mayors or governors, owners of large IT and venture companies, representatives of commercial banks and investment funds, as well as representatives of the Ministry of Digital Transformation, Regional Development and the President of the Association of Towns and Municipalities of Ukraine to be active participants and speakers. They will present the specific needs and projects that are expected to be implemented in Ukraine, including projects in the EU, where Ukraine is looking for the specific business partners for mutual cooperation.
Real assistance to Ukraine is possible only with the involvement of business partners from the private sector, therefore, an extremely important element of the conference will be the MATCHMAKING of the Ukrainian business partners with the Slovak and European business community.
More information and registration:
https://dlhopis.com/aktuality/podujatie/smerovanie-k-efektivnejsiemu-financnemu-ekosystemu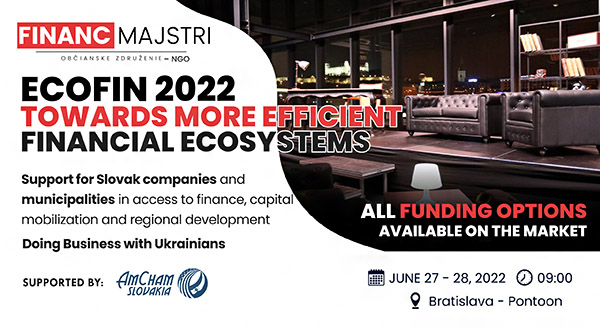 Documents to download
June 02, 2022
ECOFIN 2022_e
Format: .pdf, size: 5.38MB
download
AmCham
Member
Policy
Connection