Results of brief AmCham member Covid19 survey.

We would like to inform you that Veronika Yorumez, Corporate Relations Manager responsible for membership, will be on maternity leave from April 2020 until March 2021.

Europe continues to be a sellers' market. All countries across Europe now apply "seller-friendly" risk allocation techniques, while the US continues to firmly favour the buyer.

Elite Language Center, in response to the current situation around COVID-19, has made all of its services available online.



UPCOMING WEBINARS
April 3, 2020 - Exclusive webinar with Ludovit Odor, Deputy Governor of Narodna banka Slovenska
Key Measures to Support the Economy and Financial System
PAST WEBINARS – WATCH FROM THE RECORD
April 2, 2020 - Company financing in times of crisis. How to ensure liquidity of companies?
in cooperation with Slovenská sporiteľňa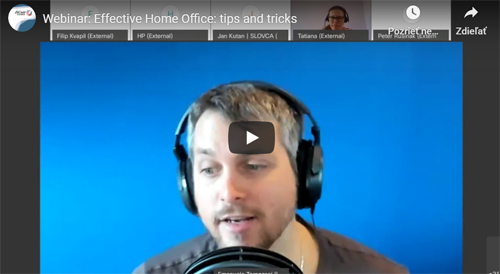 March 31, 2020 - Effective Home Office: tips and tricks
in cooperation with IBM Slovakia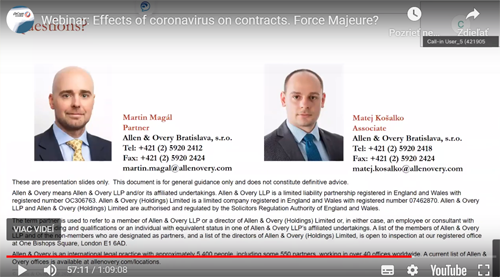 March 27, 2020 - Effects of coronavirus on contracts. Force Majeure?
in cooperation with Allen & Over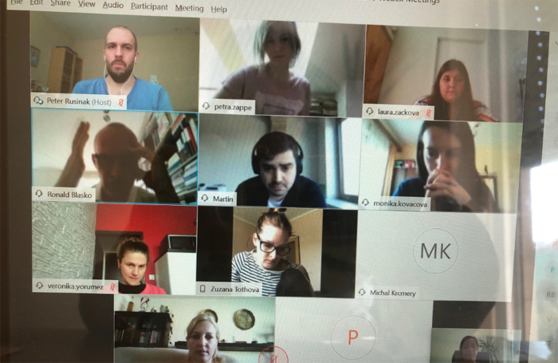 We monitor on a daily basis the evolution of the COVID-19 outbreak as well as government guidelines. As of March 13, all AmCham Slovakia staff members have been working from home. We remain functional via Webex where our members can join committee meetings.

Regarding our AmCham events, as per public health recommendations, AmCham Slovakia has postponed all upcoming events until further notice.

As a solution, we are planning to bring some of our events online and we prepare also Webinars with useful information how to handle with the consequences of the virus within your company. Let us know, if you have some ideas or topics to share.



We invite our members to share their best practices.

CISCO Systems Slovakia, Microsoft Slovakia, Aliter Technologies, a.s.

IT companies in Slovakia (also our members: CISCO Systems Slovakia, Microsoft Slovakia, Aliter Technologies, a.s.) actively provide assistance in the form of technological solutions for companies that will make the fight against the spread of infection more effective in Slovakia:

read more
CISCO Systems Slovakia
Cisco responds to those needs by making following IT tools available free of charge. These offers apply to all businesses and organizations regardless of their size. They also apply to existing customers who can extend the solutions they use to more users:

video conferencing solutions: free usage of Cisco Webex Free for individuals after registration at https://cart.webex.com/sign-up-webex

to active Cisco Webex Trial for companies for 90 days it is required to contact Cisco Slovakia sales representative via webexsk@cisco.com

secure remote access to company data: free offer of Cisco AnyConnect Secure Mobility Client is available until July 1st, 2020

securing remote worker's computers: providing Cisco Umbrella and Duo Security free of charge after signing up - the registration is available at https://signup.umbrella.com/ and https://signup.duo.com/ and the offer is valid until July 1st, 2020.



Squire Patton Boggs

Squire Patton Boggs is providing support and advice to help you navigate legal issues and manage risk in order to mitigate the impact of the virus on business operations, including staff wellbeing, commercial obligations, funding, supply chain etc.

read more
Technical University of Kosice (TUKE)

Technical University of Kosice (TUKE) started printing protective equipment for medical staff in hospitals:

read more
Facebook

Facebook made available for free by reviewing the account for Workplace for internal communication and project management:

read more
Facebook

Facebook has also announced that it will provide $ 100 million for small businesses in 30 countries:

read more
ESET

ESET has set up a "Covid-19 Effective Diagnosis and Prevention Fund" with the contribution of € 300,000 and also helps with security testing of COVID-19 applications:

read more
Google

Google has confirmed that its employees are working to protect users from phishing, conspiracy theories, malware and false information.



PwC network

The PwC network has compiled an overview of the different measures that are available to support businesses in +50 countries around the globe:

read more
Slovak Technical University (STU)

Slovak Technical University (STU) and the Matador Group are developing a prototype lung ventilator:

read more
European Commission

Guidelines concerning the exercise of the free movement of workers during COVID-19 outbreak:

download

U.S. Chamber of Commerce

Global Dashboard on COVID-19 Government Policies

read more

Civitta Slovakia

Civitta Slovakia will be joining the global fight against the pandemic Covid-19. A special virtual event will be held this weekend (April 3rd-5th), where all participants will be looking for solutions to acute medical, financial, cultural, urban challenges, as well as for challenges in excluded communities. The best solutions will get a chance to take it to the next level by taking part in a 6-week accelerator program

read more
KPMG
KPMG Business Institute offers free online webinars on online teaching techniques, Cyber4Kids and finances

read more




AmCham Slovakia wants to help you, our member, to fight the current crisis and remain a relevant voice of the local business community towards the Government and public institutions. Read the full survey results HERE: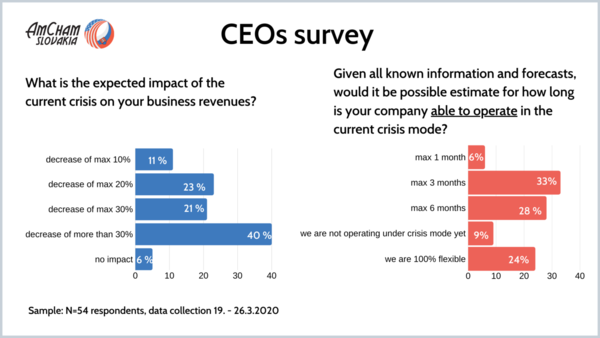 AmChams in Europe: Employment protection measures in selected EU countries
( download .PDF)
Extensive coronavirus manual from Na Bulovce Hospital (CZ) experts

( download .PDF)