Slovakia's competitiveness must be a priority for the new Slovak Government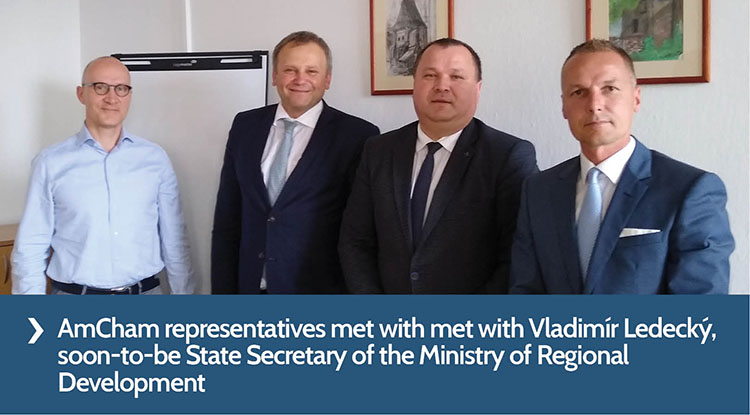 On 22nd June, AmCham's President Gabriel Galgóci, Executive Director Ronald Blaško, Policy officer Marek Hrubčo, and Member of the Board, Peter Fischer, met with Vladimír Ledecký, soon-to-be State Secretary of the Ministry of Regional Development. We have discussed a number of challenges faced by the new ministry and agreed on the need to take a new coordinated and holistic approach to regional development. At AmCham, we are ready to help the new Ministry to tackle those challenges through knowledge and expertise of our members, which can be put to work in order to enhance regional growth.
AmCham representatives have appreciated Mr Ledecký's strong leadership in concentrating all regional development-related government programs under one roof – something, which is about to materialize in the establishment of the new Ministry.
We are pleased to have found a strong partner at the level of central government, and we will be happy to work to together with the new Ministry and all the regional stakeholders to make our regions more competitive.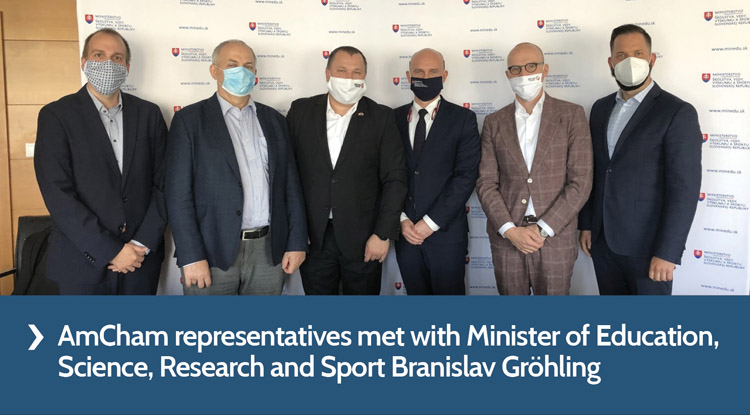 On June 2, AmCham representatives met with Minister Branislav Gröhling to discuss common areas of interest and present opportunities for cooperation with the Ministry of Education. Following the introduction by AmCham president Gabriel Galgóci on the four main pillars of AmCham advocacy activities ensuring Slovakia´s future competitiveness, minister Gröhling agreed with AmCham leaders on the necessity to establish an even stronger bond between educational institutions and private businesses employing hundreds of thousands people in Slovakia. AmCham underlined its support for efficient digitalization of education and soft skills to play a significant role in education reform. A specific cooperation in regional development is also on the list of next steps to be determined.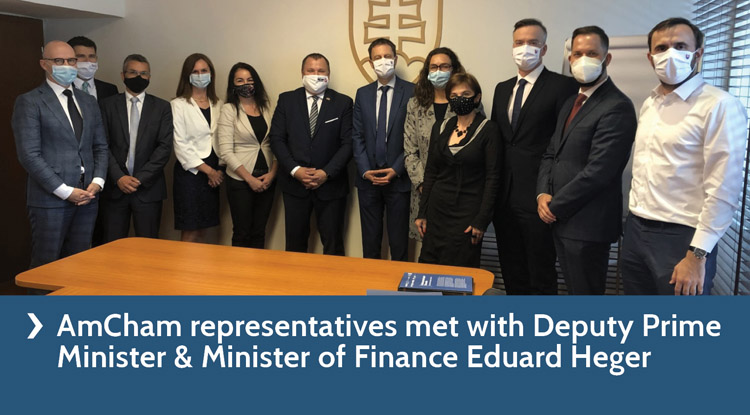 On June 1, AmCham representatives met with Deputy Prime Minister & Minister of Finance Eduard Heger, State Secretary Marcel Klimek, Value for Money Department Director Stefan Kišš and General Director of Tax & Customs Department Daniela Klučková to discuss potential areas for cooperation. AmCham President G. Galgoci presented four main pillars of AmCham advocacy activities (rule of law, human capital, innovations and regional development) which should lead to our ultimate goal – ensuring Slovakia´s competitiveness. Minister Heger together with AmCham leaders agreed on the need of more transparent and predictable legislative process as well as the need for transformation of the Slovak economy to a knowledge-based economy and support for innovation and R&D. AmCham also supported stronger mandate for value for money principle in public policies. More specific cooperation, especially in the area of tax policy, is expected to follow soon.

On May 6, 2020 AmCham leadership met with Minister of Transport Andrej Doležal and his State Secretary Jaroslav Kmeť to discuss how AmCham can tangibly contribute to the necessary transformation of the Slovak economy. Discussion focused on the importance of digital economy and necessary upgrades digital infrastructure.
AmCham offered its members´ expertise in the preparation phase of the new Act on Electronic Communications. Beside other areas, AmCham leaders stressed the importance of transparent selection process for candidates of independent regulatory institutions such as the Telecommunications Regulatory Authority. Ministry of Transportation also recognized potential of further cooperation with AmCham and Slovak.AI in applying AI technologies in public transportation.



On April 22, 2020 AmCham team met Deputy Prime Minister Richard Sulík. During the introductory meeting, members of AmCham BoD addressed key pillars for the competitiveness of the Slovak economy including rule of law, support of innovations, digital economy transformation or the significance of the shared service industry in Slovakia. Inevitably the discussion did not avoid crucial topics of human capital development, including flexibility of the Labor Code and quality of education.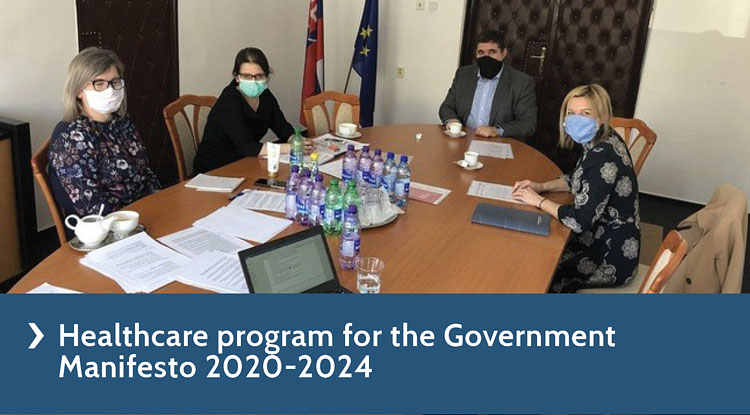 On April 2nd, 2020 AmCham Health Care Committee met with the newly appointed State of Secretary of the Ministry of Health, Jana Ježíková and discussed the SK Gov't 2020-2024 Program.
At the meeting we discussed Joint Suggestions for the SK Gov't 2020-2024 Program, containing 11 recommendations, drafted by Amcham and 11 partners. One of the recommendations is to establish the National Institute of Health & Safety that would enforce necessary measures in times of crisis, in order to protect the health and life of the citizens.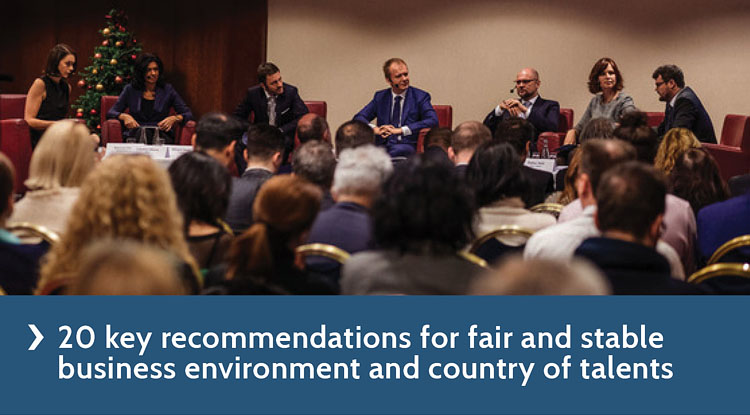 AmCham together with 15 partner business associations and chambers of commerce addressed a call to the new Slovak government to ensure Slovakia remains a competitive economy.

They prepared set of 20 recommendations aimed at improving the rule of law in Slovakia as well as developing the human capital of our country. As all four parties that are creating the new government have reacted positively and committed to our recommendations, the wider business community expects these measures to be incorporated in the upcoming Government manifesto 2020-2024. 






Slovak.AI calls on the new government to support research and development of artificial intelligence at a national level and encourage Slovak companies to accelerate innovation and link up with the Academy.

The founding members of the slovak.AI platform presented on March 6th, 2020 a practical manual for companies on how to introduce artificial intelligence at the Slovak Academy of Sciences. They also presented a vision of getting Slovakia on the map of Europe in artificial intelligence by creating an institute as a reference of excellence in artificial intelligence for Slovakia, Europe and the world. The new Government of the Slovak Republic 2020+ is addressing strategic recommendations that talk about the necessary reforms and measures to make Slovakia a full partner in the international infrastructure of centers of excellence.

They presented two strategic documents in which they participated. Both studies, including the survey, were prepared for the Office of the Deputy Prime Minister of the Slovak Republic for Investment and Information Technology. Read more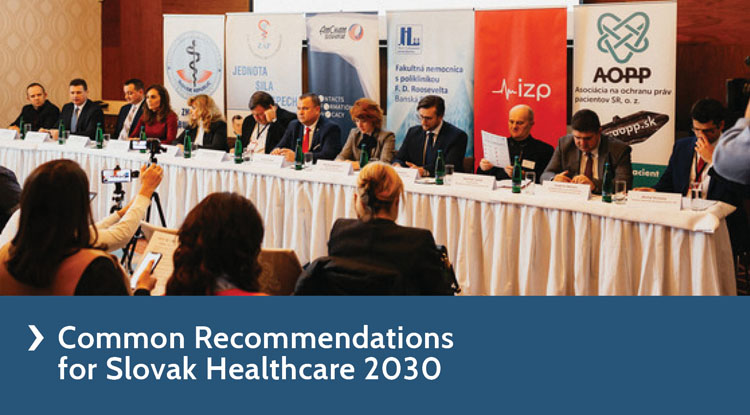 Slovak healthcare needs a clear vision, responsible and sustainable budgeting, pro-patient orientation, efficiency and public control. In order to prosper, Slovak health care needs to make comprehensive changes in the system of its functioning as quickly as possible. AmCham together with 11 other healthcare stakeholders presented 10 commandments for better healthcare for the next decade at the common Press Conference on January 27th, 2020. Read more