Excess liquidity in CEE – borrowers continue to drive the lending market
At the end of April, Allen & Overy held its 7th Annual CEE Finance Workshop bringing together experts from across the region for an online discussion on the latest loan market trends in CEE. The latest data shows the impact of COVID-19 – a "K"-shaped recovery in the region with borrowers' position for negotiation strengthened.

As in previous years, our CEE loan transaction trends overview was hosted by our English law CEE banking experts Attila K Csongrady and Peter Redo based on their unique insights gained from analysing over 30 data points in over 500 transactions worth over EUR70 billion over a period of six years.

After introductory remarks by partner Dan Cocker, head of CEE Banking, the keynote speaker this year was Gunter Deuber, Head of Research at Raiffesen Bank International AG, who presented on the CEE macro environment and on the outlook for the region. After that, A&O banking and finance specialists from offices in the Czech Republic, Hungary, Poland and Slovakia, together with selected relationship law firms from Austria, Bulgaria, Croatia, Serbia, Slovenia and the Ukraine, shared their perspectives on market developments. The event, a fixture on the regional lending scene, this year attracted well over 100 participants.
Some of the other key findings include:

sustainable lending on the way to becoming mainstream;
transition to Risk-free Rates on the top of agendas; and
financial covenants erosion and increasing emphasis on upfront DD.
Commenting on this year's findings, Attila K Csongrady, banking counsel at A&O, said: "In what has been another busy year in CEE loan markets, we have witnessed increased flexibility around capital structures including lenders' willingness to accommodate borrowers moving towards 'debt platforms' that can provide a degree of future-proofing and reduce the need for wholesale re-documenting as funding needs evolve. English law continues to be by far the most popular choice for cross-border financings."

Partner of Allen & Overy Bratislava, Renátus Kollár aslo commented: "This is also a unique event for the Slovak market, especially in the context of its proximity to Vienna and its deal making potential as a regional hub for cross-border deals. We are proud to see that our English law team, and Attila and Peter in particular, are able to deliver year-on-year this ground-breaking seminar, which for the benefit of all participants uniquely summarises any existing trends, compares those with the rich database of our historic data and places all of this within the perspective of English law and all jurisdictions in Central and South Eastern Europe."

The workshop, now in its seventh year of existence, helps clients understand this varied and sometimes challenging lending C&SEE environment. From Allen & Overy Bratislava the line-up of speakers also included partner Renátus Kollár.

Please see attached flyer highlighting latest key findings here.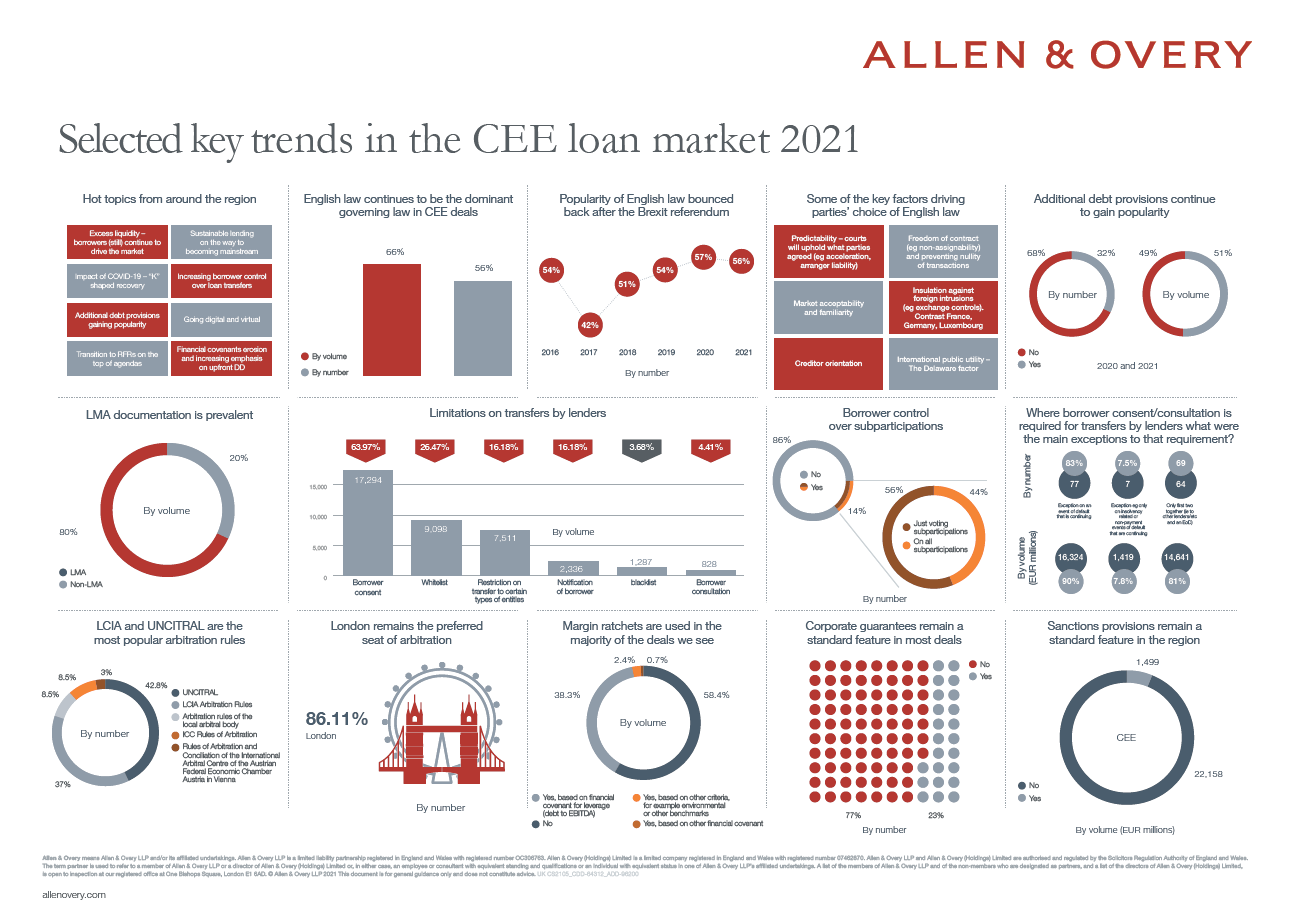 For further information, please contact Monika Nagyova in Bratislava on monika.nagyova@allenvoery.com

Notes to editors
Allen & Overy means Allen & Overy LLP and/or its affiliated undertakings. Allen & Overy LLP is a limited liability partnership registered in England and Wales with registered number OC306763. Allen & Overy (Holdings) Limited is a limited company registered in England and Wales with registered number 07462870. Allen & Overy LLP and Allen & Overy (Holdings) Limited are authorised and regulated by the Solicitors Regulation Authority of England and Wales.
The term partner is used to refer to a member of Allen & Overy LLP or a director of Allen & Overy (Holdings) Limited or, in either case, an employee or consultant with equivalent standing and qualifications or an individual with equivalent status in one of Allen & Overy LLP's affiliated undertakings. A list of the members of Allen & Overy LLP and of the non-members who are designated as partners, and a list of the directors of Allen & Overy (Holdings) Limited, is open to inspection at our registered office at One Bishops Square, London E1 6AD.

Allen & Overy is an international legal practice with approximately 5,500 people, including some 550 partners, working in more than 40 offices worldwide. A current list of Allen & Overy offices is available at allenovery.com/locations.