JOB OPENINGS FOR UKRAINIANS
In order to amplify our help to Ukrainian refugees seeking a job in Slovakia, we have created a comprehensive list of member companies that offer both low-skilled as well as high-skilled jobs.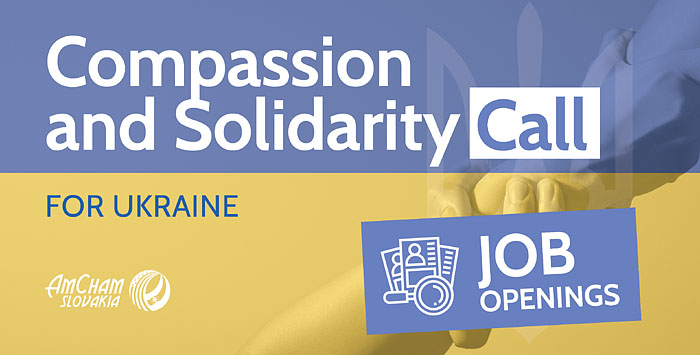 We are grateful that you continue to show your compassion and support for Ukraine.

Our sincere thank you, you are giving the people of Ukraine a second chance!
Employers of Open Arms:
Company
Offer


Accenture is ready to support the people who have been displaced from Ukraine and who are looking for a job in Slovakia. We have many open positions especially within IT area such as : Business Analysts, Data Engineers ( Splunk, PowerBI, Tableau, Databricks), Cloud Specialists( AWS, Azure, GCP), DevOps Engineers, SW Developers ( Java, .NET, PL/SQL ), Web applications developers ( React, Angular, Node.js, Javascript ), UX/UI Designers, Infrastructure specialists ( M365), SAP developers and consultants( ABAP development or SAP/UI5, MM ), ServiceNow Specialists or Salesforce developers.

For our positions there is no need to speak Slovak language at all, a good communication level in English is sufficient. For candidates with a gap in English language we have prepared intensive tailored trainings to improve the command of English language and make them fully comfortable in their new roles.

To further support candidates who had to flee Ukraine we have activated fast tracked recruiting and onboarding process, offer a relocation bonus and will be happy to assist them during the whole accommodation process in Slovakia, including help with opening the bank account, finding a suitable accommodation, guidance on placement of their children into schools in Slovakia, completion of the long term immigration procedures.

accenture.com/sk-en/careers






Arval Competence Center is offering many possibilities for all spectrum of candidates coming from Ukraine, either in back office, finance, operations or language skilled positions. We are multicultural company with English as a communicating language, so no need to speak Slovak.

https://www.profesia.sk/praca/arval-competence-center/C37430







Accountant Clerk: myworkdayjobs.com
Pricing Analyst: myworkdayjobs.com
Business Analyst: myworkdayjobs.com
Accountant Clerk: myworkdayjobs.com
AR Analyst 100% US Shift: myworkdayjobs.com
Internal Auditor: myworkdayjobs.com
Junior Cash App Accountant: myworkdayjobs.com







profesia.sk







jobs.dell.com







www.magentajobs.sk







Office Support: https://www.pracujucemamy.sk/jobs/33/
HR Manager: https://www.pracujucemamy.sk/jobs/34/
Networker: https://www.pracujucemamy.sk/jobs/35/
Web Developer: https://career.grandaliro.com/en/job/web-developer
Project Manager: https://career.grandaliro.com/en/job/marketing-project-manager
Business Development Manager: https://career.grandaliro.com/en/job/international-sales-bizdev-manager
Visual / Web developer: https://career.grandaliro.com/en/job/visual-designer







www.holcim-ebs.eu/careers







careers.hpe.com/jobs







ibm.com/employment

Cloud Architect: https://careers.ibm.com/job/14142886/cloud-architect-remote/?codes=IBM_CareerWebSite
Cloud Data Engineer: https://careers.ibm.com/job/14142887/cloud-data-engineer-remote/?codes=IBM_CareerWebSite
DevOps Engineer: https://careers.ibm.com/job/14243721/devops-engineer-remote/?codes=IBM_CareerWebSite
Full Stack JavaScript Developer: https://careers.ibm.com/job/14242025/full-stack-javascript-developer-remote/?codes=IBM_CareerWebSite
Kubernetes Engineer: https://careers.ibm.com/job/14144818/kubernetes-engineer-remote/?codes=IBM_CareerWebSite
Security Services – Identity and Access Management Architect: https://careers.ibm.com/job/14838928/security-services-identity-and-access-management-architect-remote/?codes=IBM_CareerWebSite
Test Automation Specialist: https://careers.ibm.com/job/14284656/test-automation-specialist-remote/?codes=IBM_CareerWebSite
Cognitive Process Automation Developer: https://careers.ibm.com/job/14773108/cognitive-process-automation-developer-remote/?codes=IBM_CareerWebSite
Java/JavaScript (FIleNet P8) Developer: https://careers.ibm.com/job/14773107/java-javascript-filenet-p8-developer-remote/?codes=IBM_CareerWebSite
Tableau Desktop CRM Specialist: https://careers.ibm.com/job/14802340/tableau-desktop-tableau-crm-specialist-remote/?codes=IBM_CareerWebSite
Mobile Developer: https://careers.ibm.com/job/13939412/join-our-frontend-fullstack-mobile-developers-community-remote/?codes=IBM_CareerWebSite
Junior Microsoft .Net Developer: https://careers.ibm.com/job/13965243/junior-microsoft-net-developer-remote/
Sharepoint Power Platform Developer: https://careers.ibm.com/job/14654014/sharepoint-power-platform-developer-remote/?codes=IBM_CareerWebSite
Salesforce Digital Marketer: https://careers.ibm.com/job/13539625/salesforce-digital-marketer-remote/?codes=IBM_CareerWebSite
Salesforce Consultant: https://careers.ibm.com/job/14456986/salesforce-consultant-remote/?codes=IBM_CareerWebSite
Salesforce Developer: https://careers.ibm.com/job/14456987/salesforce-developer-remote/?codes=IBM_CareerWebSite
Salesforce Developer/Consultant - graduate: https://www.ibm.com/employment/#jobs?job-search=461120BR
SAP Consultant: https://careers.ibm.com/job/14828773/sap-consultant-remote/
IT Trainee: https://careers.ibm.com/job/13417892/it-trainee-remote/?codes=IBM_CareerWebSite
Junior IT Specialist: https://careers.ibm.com/job/14430488/junior-it-specialist-remote/?codes=IBM_CareerWebSite
Business Analyst: https://careers.ibm.com/job/15147550/business-analyst-remote/







profesia.sk







Regulatory Affairs Head
Therapeutical Area Lead
Market Access Manager
Pricing Specialist
Internal project manager – a central hub for the management of all requests inflow, matching with our possibilities of support and aggregating information flow from various streams, such as NEM (Novartis Emergency Management), Divisional heads, mass-media, Global, Local internal communication, communication with NGOs etc. A good candidate can be also a student, with good organizational and communication skills and passion for dealing with multiple streams of information. The estimated hourly requirement is approx. 15-20 hours per week. Languages required: English (Intermediate / Proficient), Slovak (Intermediate). For more information contact Ms. Michaela Kovacsova, michaela.kovacsova@novartis.com








pmi.com/careers







Payroll junior accountant: profesia.sk
Accountant Assistant: profesia.sk







profesia.sk







Графічний дизайнер







jobs.siemens.com







careers.zurich.com