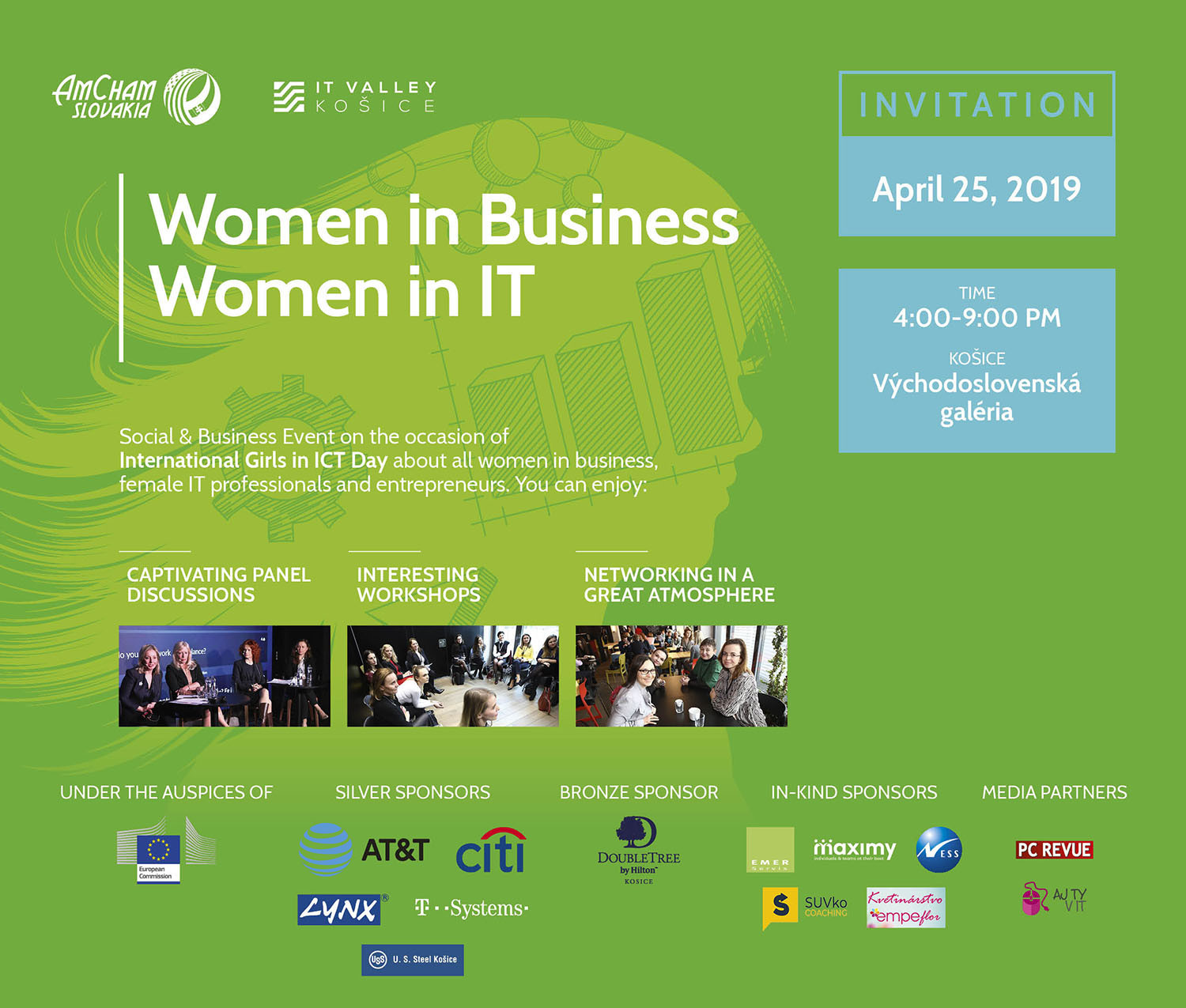 Women in Business | Women in IT
Thursday, Apr 25, 2019 From 16:00 to 21:00
Východoslovenská galéria, Hlavná 110/27
Social & business event for all women in business, female professionals and entrepreneurs.
AGENDA
15:30 Registration
16:00 Welcome
Ronald Blaško, Executive Director, AmCham Slovakia
16:10 Keynote Remarks

Zuzana Tkáčová, Teacher of the Year, Aj Ty v IT
16:20 Panel Discussion #1 - Women in leadership: better world, better business

Gabriel Galgóci, President of AmCham, Slovakia Country General Manager & Director Client Network Operations Management AT&T (Moderator)

Veronika Špaňárová, Chief Executive Officer in Slovakia, Citibank Europe plc.

Martina Kaprálová, General Manager Procurement, U. S. Steel Košice

Slávka Kollárová, Founder, INSPIO

17:20 Coffee Break
17:40 Keynote Speech

Zuzana Palovič, Founder of Global Slovakia

18:00 Panel Discussion #2 - Gender neutrality of technology: Wishful thinking or reality?

Pavol Miroššay, Executive Director, Košice IT-Valley (Moderator)

Zuzana Zvolenská, Senior Specialist Human Resources, AT&T

Lenka Zajacová, Head of team Project management Telekom IT, Lead of Diversity program, T-System Slovakia

Veronika Heidecker, Tech Support Engineer, Progress Software

19:00 Closing Remarks

Ronald Blaško, Executive Director, AmCham Slovakia
Pavol Miroššay, Executive Director, Košice IT-Valley

19:10 Coffee Break

19:30 Workshops

Psychological aspects of being a business woman – self-awareness as a key to work-life balance, by Daniela Sovinec, Maximy

Diversity bears fruit by SUVko Coaching

20:30 Cocktail

AmCham
Member
Policy
Connection