 Energy crisis
Monday, Nov 14, 2022 From 14:00 to 16:00
Historická sála, Východoslovenská galéria, Hlavná 110/27, Košice
Panel discussion in Košice
Panel discussion on current trends in energy prices, their impact on the business sector, industry, IT sector and small and medium-sized entrepreneurs.
The discussion agenda will focus on bellow mentioned questions:

What are the main reasons for high energy prices?
Current and forthcoming measures at the governmental and European level and the risks associated with them: Are price ceilings the right way to move forward? What are the possible risks?
What can we expect in 2024 in the area of energy prices? What is the estimated impact of the energy crisis on the business sector? Do we have data?
Can we see the light at the end of the tunnel? Is the solution hidden in alternative energy sources?
What can be done by local players to fight the global energetic crisis?
SPEAKERS:
Energy crisis – global and national overview:
Peter KREMSKÝ, Chairman of the Economic Affairs Committee of the National Assembly
Jana AMBROŠOVÁ, President of the Association of Energy Suppliers
Andrej JURIS, Chairman, the Regulatory Office for Network Industries (URSO)
Juraj KRAJCÁR, Chairman of the Board of ZSE Energia, a. s.
Branislav SUŠILA, Head of the Regulatory Management section, Východoslovenská energetika Holding a.s
How to tackle the energetic crisis at the local level of Eastern Slovakia?
Kvetoslava ŠOLTÉSOVÁ, Director, Energy Activities Section, Department of Legislation, Methodology and Education of SIEA
Jaroslav ADAMKOVIČ, Director of the Department of Coordination of Regional Offices, SAŽP
Moderator: Ronald BLAŠKO, Executive Director of AmCham Slovakia
Your Contact person
Katarína Miňová
Regional Manager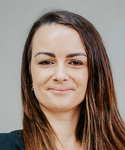 AmCham
Member
Policy
Connection