As the message above says, the AmCham office wishes all members and friends a very pleasant Christmas season!

The most useful publication promoting Slovakia as a country with vast investment and trading opportunities will be produced again by AmCham Slovakia, in cooperation with ECENTER.

Dentons, the world's largest law firm, today announced its expansion into the Irish market. Leading Irish lawyers Eavan Saunders and Peter O'Brien will found the office and Eavan will become Managing Partner. As part of its expansion plans, Dentons will be fully operational in Dublin from Q2 and intends to grow the office quickly.

Slovak Police has announced via social media a launch of new electronic reporting of short-term stay of foreigners. The announced change is in line with the Government Resolution on improving the business environment in Slovakia.

Nominate your charity for AmCham Thanksgiving Charity Drive!
While organizing our annual AmCham Thanksgiving Gala Charity Dinner, we will also be conducting the annual Thanksgiving Charity Drive with the goal of sharing with those who need it the most in our communities.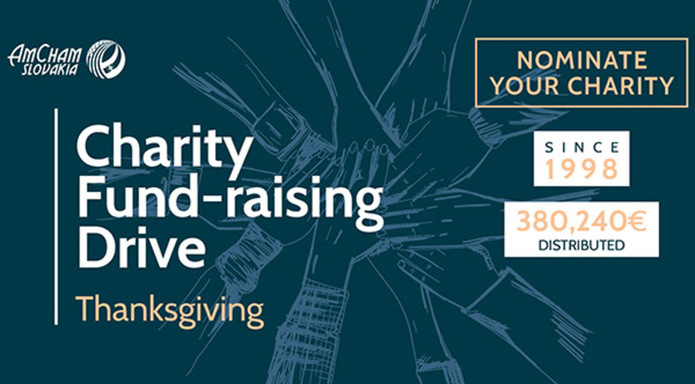 As has been AmCham´s tradition in previous years, we will seek donations from our members to be distributed to a deserving charity in Slovakia. While identifying our partner charity for 2019, AmCham would also like to hear your suggestions. We are looking for a charitable organization dedicated to serving the needs of local communities outside the Bratislava region.


To recommend a charity partner for 2019, please send us the name, contact information and a brief description of the organization by e-mail to events@amcham.sk by October 31, 2019.
Last year, AmCham Slovakia distributed 10,000 € to OMAMA, project by Cesta von.
Thank you once again for making a difference for children and their families in need.

OMAMA is an early child development home-visiting intervention program, designed to support the inclusion of Roma children living in extreme poverty through effective methods of child development. Home visits are delivered on a peer-to-peer basis once a week by trained Roma women, respected in their community. Therefore, the program also supports the inclusion of Roma women by providing employment and skills-building opportunities. In the first phase, the program is implemented in cooperation with local partners in Kecerovce, Zborov and Muránska Dlhá Lúka.


We look forward to hearing from you.