Košice East Innovation Conference
WATCH THE RECORD

Translated stream: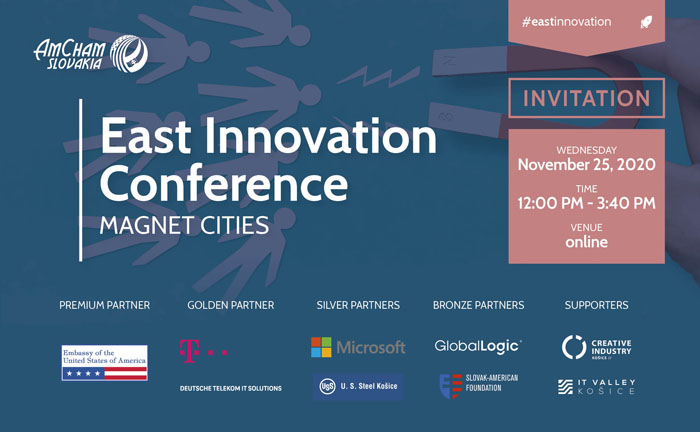 Tretí ročník odbornej virtuálnej konferencie East Innovation Conference 2020 s podtitulom Magnet Cities vysielame online z digitálneho štúdia v Košiciach. Témou tohtoročnej konferencie bude budovanie miest ako magnetov pre talenty a život - transformácia a zatraktívnenie ekosystému miest tak, aby sa stali pulzujúcimi centrami, zaujímavou alternatívou k hlavnému mestu a magnetom, ktorý pritiahne mladých talentovaných a ambicióznych ľudí na východ Slovenska.

Konferencia bude v slovenčine a angličtine so zabezpečeným simultánnym tlmočením.

Konferencia je súčasťou dlhodobých iniciatív AmCham na východe Slovenska – nepôjde o jednorazový event. Podujatie má ambíciu stať sa katalyzátorom transformácie regiónu a akcelerátor zmeny spôsobu myslenia aktérov z miestnej verejnej správy, akadémie, biznisu aj tretieho sektora v regióne Prešova a Košíc.

AmCham má ambíciu nadviazať na konferenciu udržateľnou iniciatívou Townhall Meetings – platformou pre dialóg medzi kľúčovými aktérmi regionálneho rozvoja v regióne východného Slovenska. Pilotný projekt Townhall Meetings prebehol na jeseň v Prešove.


Kľúčové otázky konferencie:

Ako využiť súčasnú krízu a transformáciu v spôsobe vykonávania práce ako príležitosť pre Košice a celé východné Slovensko?
Ako čo najefektívnejšie inovovať a premeniť naše mestá na magnety?
Čo sú najväčšie výzvy a ako sa k nim stavajú podobné regióny ako Brno a Tartu?
Registrácia pre nečlenov AmCham Slovakia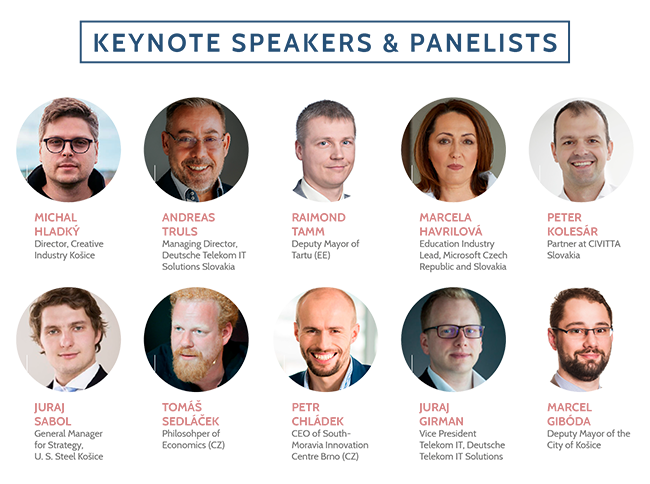 AGENDA
12:00 OFFICIAL WELCOME

Gabriel Galgóci, President, AmCham Slovakia
12:05 OPENING KEYNOTE

H.E. Bridget A. Brink, Ambassador of the United States of America to Slovakia
12:15 OPENING INTERVIEW: HOW TO JUMP-START OUR REGIONS?

Marek Antal, State Secretary of the Ministry of Investments, Regional Development and Informatization

Gabriel Galgóci, President, AmCham Slovakia

12:30 KEYNOTE 1: HOW TO FLIP THE "MAGNETIC SWITCH"?
Michal Hladký, Creative Industry Košice
12:50 KOŠICE AS A MAGNET

Marcel Gibóda, Deputy Mayor of Košice
13:00 COFFEE BREAK

13:05 PANEL 1: MAGNET CITY: REINVENTING THE KOŠICE INNOVATION ECOSYSTEM

Michal Hladký, Creative Industry Košice
Peter Kolesár, Partner - Strategy, Innovation, Funding, Civitta Slovakia
Raimond Tamm (EE), Deputy Mayor, Tartu
Martin Mudrák, AmCham Slovakia (Moderator)
13:45 LIGHTNING PRESENTATION: THE FABRIC OF INNOVATION

Juraj Sabol, General Manager for Strategy, U.S. Steel Košice
14:00 LIGHTNING PRESENTATION: UPSKILLING AS AN INVESTMENT INTO THE FUTURE OF THE REGION

Marcela Havrilová, Education Industry Lead, Microsoft Czech Republic and Slovakia
14:15 COFFEE BREAK

14:20 KEYNOTE 2: PERFECT STORM FOR INNOVATION?

Andreas Truls, Managing Director Deutsche Telekom IT Solutions Slovakia
14:40 OPENING REMARKS:

Tomáš Sedláček (CZ), Economist, philosopher and former economic advisor to Václav Havel
14:50 PANEL 2: INNOVATION DURING HARD TIMES

Juraj Girman, Vice President Telekom IT, Deutsche Telekom IT Solutions Slovakia
Petr Chládek (CZ), CEO of the South-Moravian Innovation Centre (JIC) Brno
Tomáš Sedláček (CZ), Economist, philosopher and former economic advisor to Václav Havel
Jozef Bujnovský, HDTS (Moderator)
15:30 LIGHTNING PRESENTATION: CHILDREN INNOVATING THE FUTURE

Michael Cresswell (AU), Headmaster of the Košice International School
15:40 CLOSING REMARKS

Ronald Blaško, Executive Director, AmCham Slovakia
Dôležité informácie pred podujatím:

Podujatie bude v slovenskom a anglickom jazyku, tlmočenie zabezpečné

Podujatie sa bude nahrávať a nahrávku zverejníme po evente na stránkach AmCham

Registrácia je bezplatná

Prosím zaregistrujte sa najneskôr v utorok 24.11.2020 10:00, linku na pripojenie obdržíte v utorok po 17:00.

Your Contact person
Martin Mudrák
Director of Košice Office