Women in Business Conference
Thursday, Apr 15, 2021 From 12:30 to 17:00
Untold Stories of Women in Science and Technology

Read the Press Release from the event.
Women were the leaders in building the early foundations of modern programming and unveiled the structure of DNA. Their work inspired environmental movements, their efforts led to the discovery of new genes. They broke the sound barrier — and gender barriers along the way – and stand as an inspiration to many young women who pursue careers in STEM.
Let´s honor their legacy by committing to encourage young women to pursue a career in science!
The aim of this year´s Women in Business Conference is to support young women to embrace the careers and progress in these fields and to look at the challenges they had to overcome on their road to success.
12:30 Intro Marie Curie Sklodowska
12:35 Welcome Note
Ronald Blaško, Executive Director of AmCham Slovakia
12:40 Opening remarks
Zuzana Čaputová, President of the Slovak Republic
12:45 – TED Talk – An Astrobiologist and Marsonaut
How did I become a Commander of over 20 simulated missions to the Moon and Mars?
How does my day usually look like?
How does a woman feel in this supposedly male environment?
What advice would I give to my 20 year old self?
Michaela Musilová, Director of the HI-SEAS space analog reserach station
12:55 Panel Discussion (#1 – public)
Women from diverse backgrounds face additional barriers to entry, retention and progression in the STEM workforce. What can the state do to better support girls/women to embrace and progress in the STEM fields?
Women are underappreciated in the fight against the pandemic across the STEM workforce, and are likely to hold less senior and secure roles. Is it really so? What is needed to drive the change?
According to research, women experience a smaller pay gap in STEM fields when compared with other fields. Is studying, entering and progressing in STEM the means of achieving equal salaries between women and men?
Ľudovít Paulis, State Secretary, The Ministry of Education, Science, Research and Sport of the Slovak Republic
Zuzana Krištúfková, Epidemiologist, member of the Pandemic Commission
Michal Vašečka, Sociologist and pedagogist, Bratislava Policy Institute
Rumiana Stoilova, Research Associate at the Martens Centre for European Studies, chair of the Bulgarian Sociological Association, board member of the Bulgarian Center of Women in Technology
Barbara Jagušák, moderator
13:55 COFFEE BREAK
14:25 Opening remarks: The Case for Holistic Investment in Girls
Branislav Sandtner, Country Head for Slovakia, Citi
14:35 Panel Discussion (#2 – private)
How do companies in Slovakia motivate girls in their early ages to consider STEM subjects as their future professions? How and why are they doing it?
Is dual education a win-win model for companies and for women in general? How and why?
Suzana Šaćirović, General Manager, Novartis Pharma Slovakia
Alena Kanabová, Senior Manager & Corporate Citizenship Lead, Accenture Slovakia
Martina Schusterová, Head of Education & Development Center DTITSO SK, Deutsche Telekom IT Solutions Slovakia
Violeta Luca, General Manager Czech Republic & Slovakia, Microsoft
Petra Kotuliakova, Aj Ty v IT, moderator
15:35 COFFEE BREAK
16:00 Are Women Poor at Science: Debate on women´s abilities in science careers
On Jan. 14, 2005, Harvard University President Lawrence Summers unwittingly hypothesized that the shortage of women in certain disciplines could be explained by innate differences in mathematical ability.Thus, even if the average abilities of men and women were the same, there would be more men than women at the elite levels of mathematical ability—and also, though Summers didn't say this, at the lowest levels as well. Is this argument valid in the context of CEE 16 years after Larry Summoned uttered it? Was it valid back then?
Pavol Šajgalík, President, Slovak Academy of Sciences
Zuzana Macháčková, Group Global Medical Director, F.Hoffmann-La Roche, Ltd., Basel
Mirjana Krolo, COO, iptiQ by Swiss Re
Barbara Jagušák, moderator
16:45 Closing
Your Contact person
Lea Kőrösová
Event Manager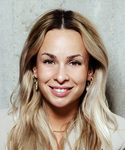 AmCham
Member
Policy
Connection