AmCham Charity Fundraising Drive 2020
As has been AmCham´s tradition in previous years, we will be conducting the annual Thanksgiving Gala Charity Dinner with the goal of sharing with those who need it the most in our communities.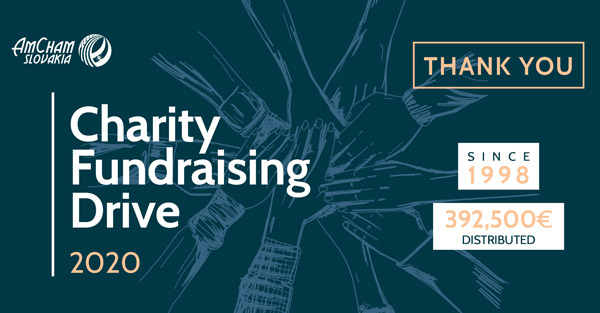 We will seek donations from our members to be distributed to a worthy charity in Slovakia. In order to identify our partner charity for 2020, AmCham would also like to hear your suggestions. We are looking for a charitable organization dedicated to serving the needs of local communities outside the Bratislava region in the field of education or health care. These two sectors need our help now more than ever.

Please send us the name, contact information and a brief description of the organization by e-mail to events@amcham.sk by November 10, 2020.

We will announce the chosen charity by the middle of November and the final collected amount of money at the beginning of December 2020.
Last year, AmCham Slovakia distributed 12,500€ to Občianske združenie DOBRÝ PASTIER!