Capital of Talents
#skills4future




Education is one of the most important tools for increasing competitiveness of Slovakia

Eliminating the discrepancy between the content and form of education and the real needs of (not only) the labor market is a long-term priority for member companies of the American Chamber of Commerce. Considering the wider societal needs, employability of graduates is the most credible feedback of the quality of the education process from the perspective of employers and the state. We see a comprehensive and functional lifelong learning system as an essential part of tackling the problem of how to secure decent, well-paid jobs for more people and to better respond to the skills needs of the economy and industry 4.0.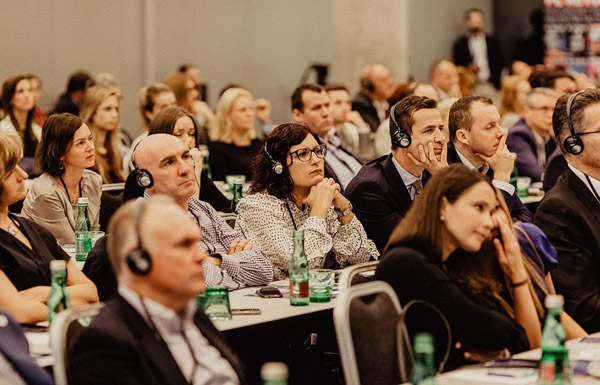 At AmCham Slovakia, we are convinced that the Slovak education system and the labor market need acute resuscitation and a direct link to the needs of a modern society based on the use of talent, innovation and industry 4.0. The biggest social change since the 19th century industrial revolution is happening now: modified business models, new types of jobs, a revolutionary change in employment relationships and the accelerated need for new skills have a major impact on how people, businesses and the state will function. The lack of the required skills intensifies the global struggle for talent. Therefore, Slovakia urgently needs to put into practice concrete improvements in labor legislation and the education system based on an expert approach reaching beyond electoral cycles.

Dynamic technological and social changes already present challenges for our country in terms of high level of digitization, future skills, and the automation of processes with broad impacts on communities. As a small, open economy, fully dependent on the global market, Slovakia is the country with the highest risk of losing or changing jobs in the OECD because of automation. Unfortunately, Slovakia is not making full use of its economic potential and is gambling dangerously with its most valuable asset - the talent of its people.
| | |
| --- | --- |
| | |
| | |
Business Service Centers Forum (BSCF)
Business Service Centers Forum is the official umbrella association for business centers in Slovakia established in 2014 within AmCham, which currently represents more than 92% of all employees within the SSC industry in Slovakia.

Business centers operate shared services centers (SSCs) or provide external services (BPOs). A Shared Service Center (SSC) implements specific internal processes (eg financial services and accounting, IT support, HR, etc.), thus supports the key activities of the parent and sister companies. Business Process Outsourcing (BPO) is an external provider of business process services and related responsibilities for third parties.

The mission of the forum is to increase awareness of the business services sector, its role in the Slovak economy and supports its further growth. The aim of the forum is to share information on common practices, problems and solutions, communicate with central and local authorities, monitor and evaluate legislation, the labor market situation and activities in areas of corporate social responsibility, working with universities and secondary schools to improve skills, and employment of their graduates in business service centers. Business Service Center Forum also represents the voice of AmCham's broad membership in relation to public institutions.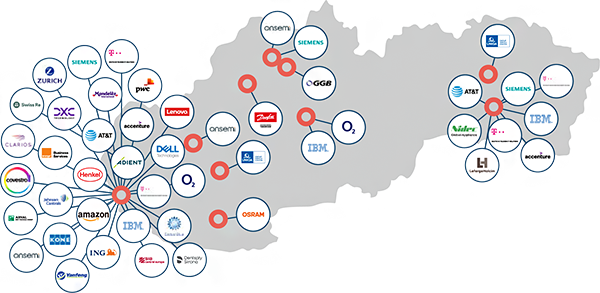 The business services industry is the third largest one after automotive and electrical engineering, employing in Slovakia more than 39 000 FTEs, of which only 11 percent are foreign nationals. The sector creates jobs with a high added value, as the average monthly gross salary here overcomes 1900 EUR.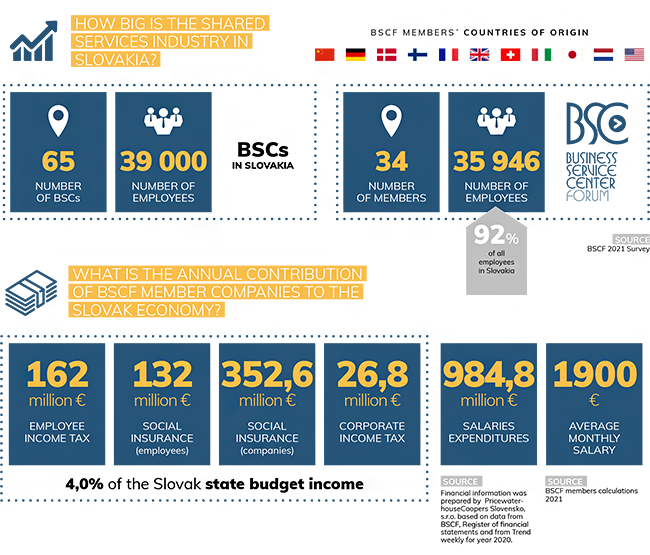 Each year, the BSCF organizes an annual flagship sectoral conference to streamline the most important trends and areas related to the sector, including employment and business-academic cooperation.

7th Annual BSCF Conference 2021

Business-Academic Cooperation
AmCham has been consistently active in deepening the cooperation between business and academic environment and help so to the cooperation between the educational sector and the demand of the market. We are trying to achieve this by active and constructive dialogue with the Ministry of Education and other relevant stakeholders in the area of education, science and research, but also by our own education activities, including the flagship teacher-centric program
Train the Trainer
, student-oriented
Mentor Network Program
or handful of accredited courses delivered at Bratislava and Košice based universities.
Train the Trainer
Unaccredited development rogram with soft skills curriculum targeted for
university
and
high school teachers
. Existing for
12 years in Slovakia. 950+ successful graduates to date
. Active in 2 cities –
Bratislava & Košice
and
100% digitally nationwide
. Next season opening in March 2022. More information about the program to be found on
www.trainthetrainer.sk
.
Accredited University Courses
Since 2016, AmCham BSCF covers its first fully accredited university course Skills for Success – from University to Workplace. The course is delivered at 6 schools in Bratislave and Košice and its aim is to provide students with the effective communication skillset which is critical for most of graduates when entering the labor market. The course is delivered by the soft skills trainers and professional development coaches from business centers industry.

On top of Skills for Success, every year AmCham in cooperation with the University of Economics organizes two accredited courses, which are led by members´ representatives. Hands-on HR: Global Trends provides an in-depth look at key roles HR plays in large companies. Based on real-life systems and processes used in top international firms, this course introduces participants to key HR aspects via case studies presented by HR professionals. It also develops students' critical thinking on hands-on challenges awaiting HR professionals and increases their preparedness for working at HR positions.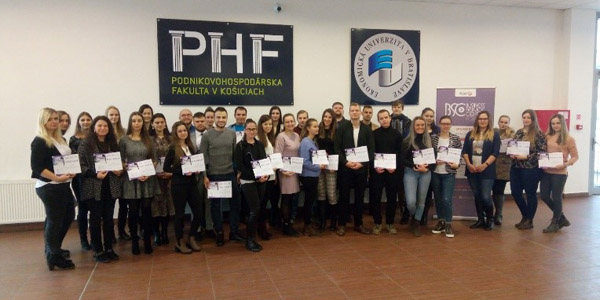 Mentor Network Program
The Mentor Network Program provides talented university and high school students with the opportunity for mentoring from leading representatives of the business sector in Slovakia. Thanks to the active contact with their mentor, many of the graduates managed to start their own business, get an internship or a job position in the company of their mentor. More information about the program, which has annually been organized since 2008 in Bratislava and since 2012 in Košice, can be found on
http://www.mentornetworkprogram.sk/
. The program is currently put on hold due to the persisting pandemic restrictions and is expected to be relived in 2023.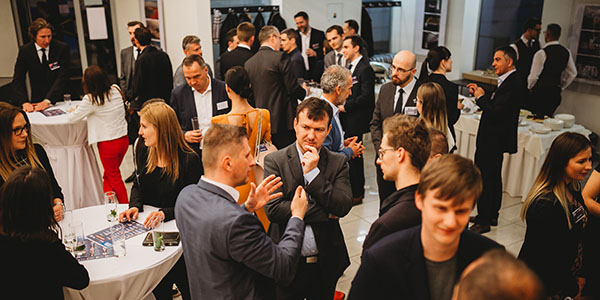 Creating valuable opportunities in Slovakia for Slovaks living abroad
Amcham together with its members companies has thoroughly been offering attractive job opportunities to Slovaks living and working abroad and motivated them to return home. It has been our pleasure to support the initiative
Work in Slovakia – good idea
empowered by the IT Association of Slovakia, the Office of the Deputy Prime Minister for Investment and Informatization and the Ministry of Foreign and European Affairs.
The aim of the initiative is to motivate Slovaks working abroad to return home and, in cooperation with major employers in Slovakia, to present them with attractive job offers in the IT sector, shared services centers or in the healthcare sector, which will adequately assess their talent, experience and skills. Since 2019 a total of four trips (London, UK twice, Dublin, Copenhagen) took place to meet compatriots living and working abroad.
On top of that, AmCham Slovakia has been a proud main partner of the long-term and systematic initiative
Vráť sa
aiming to create a valuable job opportunity for every Slovak intending to return home.